08/27/2014 6:13 PM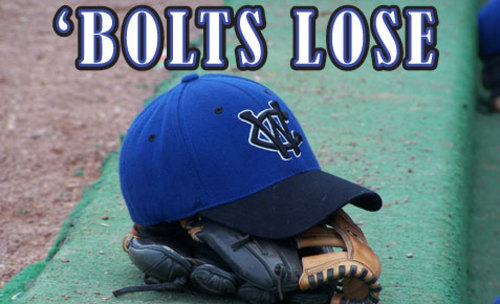 EVANSVILLE, IN – After not getting swept in a doubleheader for seven years, it happened to the ThunderBolts for a second straight gameday on Wednesday as the Evansville Otters defeated them 9-2 and 2-0 at Bosse Field.
Evansville jumped out to an early lead in game one, scoring three runs on four hits in the first and adding a couple of unearned runs in the second to lead 5-0.
The ThunderBolts ended a 16-inning scoreless streak with two runs in the fourth. Mike Torres singled and Ryan Soares walked; both men scored when Max White reached on an error.
The Otters immediately responded when Chris Elder hit a three-run homer in the bottom of the inning to go up 8-2. Chris Sweeney's solo home run in the sixth finished the scoring.
Jose Velez (2-4) walked only one and tied the franchise strikeout record with 16 in the win. Josh Spence (1-10) allowed six earned runs in five innings for the loss.
Game two was a strong pitchers' duel from the start. Neither Windy City's Travis Tingle nor Evansville's Will Oliver allowed a baserunner through the first three innings before both sides gained an infield hit in the fourth.
The only runs were scored in the fifth inning. The Otters loaded the bases on three consecutive singles before Josh Allen broke the scoreless tie with a two-run base hit.
The ThunderBolts threatened against Eric Massingham in the ninth, putting two men on base, but did not score as Massingham secured his fourth save.
Oliver (3-0) pitched six shutout innings for the win and Tingle (8-6) allowed two runs in 4.1 innings for the loss.
The series wraps up on Thursday night with a 6:35 first pitch at Bosse Field. The ThunderBolts will send Pete Whittingslow (0-0, 2.04) to the mound to make his first career start against Evansville's Trevor Walch (5-3, 3.94). The game broadcast can be heard on meridix.com.