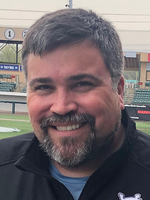 Mike VerSchave
General Manager
Phone:
708.489.2255 Ext. 2016
E-mail:
General Manager Mike VerSchave begins his 16th season full time with the ThunderBolts and 24th overall with the franchise in 2022. Mike was named General Manager of the organization on April 23, 2019. Mike has served as Assistant General Manager (2014-18), Director of Operations (2011-13), and Head Groundskeeper (2007-10) as part of his time with the club.
Mike's tenure with the club started in 1999 with the Cook County Cheetahs in the press box including message board operator & sound director. With the ThunderBolts Mike became public address announcer in 2004 and held that position from 2004-2006 & 2008-2010. The 2005 season started his experience on the grounds crew as an assistant. In 2007 Mike was promoted to Head Groundskeeper at Ozinga Field and after that season he became a member of the front office as an account executive. Mike was awarded "Groundskeeper of the Year" for the 2013 Frontier League season.
He graduated high school from Oak Lawn Community in 2000. After high school Mike graduated from Harry Wendelstedt School for Umpires in Daytona Beach, Florida and has called balls and strikes at a college and semi-pro level. He attended both Moraine Valley Community College in Palos Hills and Northern Illinois University in DeKalb completing his requirements in the field of history.