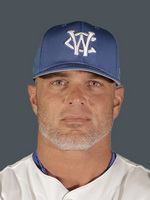 Jaret Wright
Pitching Coach
E-mail:
Jaret Wright begins his first season as Pitching Coach of the Windy City ThunderBolts in 2023.
A former first round draft pick of the Cleveland Indians, Wright went on to play 11 seasons in the Major Leagues with Cleveland, the Padres, Braves, Yankees and Orioles. He won 68 games over the course of his career, including 15 for the Braves in 2004. In 1997, at the age of 21, Wright finished fifth in the American League Rookie of the Year voting. That fall, he started game seven of the World Series against the Florida Marlins on three days' rest and allowed only one run over 6.1 innings.
Wright was born on December 29, 1975. He was drafted tenth overall in 1994 out of Katella High School in Anaheim, California and spent four years as a teammate of ThunderBolts manager Richie Sexson with the Indians.