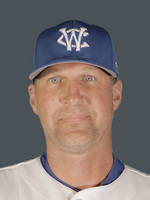 Richie Sexson
Field Manager
E-mail:
Richie Sexson will begin his first season as Field Manager of the Windy City ThunderBolts in 2023.
The All-Star slugger played for 12 seasons in the Major Leagues from 1997-2008. He was a career .262 hitter with 309 total home runs during his time playing for the Cleveland Indians, Milwaukee Brewers, Arizona Diamondbacks, Seattle Mariners and New York Yankees. Sexson's time with the Brewers is most remembered as he was a two-time National League All-Star in 2002 and 2003. He was the first of three players in Brewers history to have 100 or more RBIs in three consecutive seasons along with Prince Fielder and Ryan Braun. In 2014, Sexson was inducted to the Brewers' Wall of Honor.
Sexson was born on December 29, 1974 in Portland, Oregon. He earned all-state honors in three sports (baseball, basketball, football) at Prairie High School in Vancouver, Washington and was drafted out of high school by the Indians in the 24th round of the 1993 Baseball Amateur Draft.
Sexson retired as a player after the 2008 MLB season and has spent much of the last decade as director of baseball at Summit High School in Bend, Oregon. He was named the 19th Field Manager in ThunderBolts history on October 20, 2022 replacing Brian Smith.