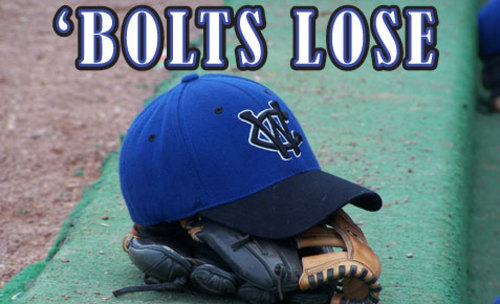 CRESTWOOD, IL – Adam Champion threw eight strong innings for the Evansville Otters as they defeated the Windy City ThunderBolts 4-1 at Standard Bank Stadium Friday night.
Evansville began the scoring in the third inning, when Runey Davis tripled to centerfield with one out. After a walk and a fielder's choice, the bases were loaded. Dustin Williams struck out Nick Schwaner but DeAngelo Mack brought home two runs on a single.
The Otters added two more runs in the fifth. Evansville loaded the bases with one out and Williams walked Luis Uribe to bring home a run. Dan Killian's fielder's choice scored another to make it 4-0.
The Bolts were held to only one hit over the first six innings and they trailed 4-0 into the seventh. There, with two outs, Brandon Decker tripled and Zach Aakhus singled him in, making it 4-1.
Windy City had a chance in the ninth against Evansville closer Eric Massingham. C.J. Gillman doubled and Decker walked and there were runners at the corners with two outs, but Massingham got Aakhus to groundout to end the game.
Champion (6-4) earned the win while Williams (10-5) struck out nine and allowed only two earned runs in six innings, taking the loss.
The ThunderBolts will continue their three-game set against the Evansville Otters on Saturday night. The game will be followed by the final fireworks show of the year presented by Standard Bank at Standard Bank Stadium. It is also Elvis Night and there will be a pregame concert performed by Jerry "Elvis" Vegas. The game begins at 6:05 and the pitching matchup will feature Blayne Weller (4-2, 4.40) for the Bolts against Evansville's Wynn Pelzer (1-2, 4.13). The broadcast can be heard on WXAV, 88.3 fm and wxav.com.

Box Score