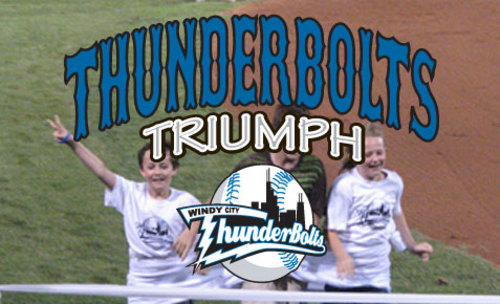 CRESTWOOD, IL – The ThunderBolts got another strong pitching performance Sunday night and Chad Cregar hit another home run against London as the Bolts defeated the Rippers 5-4 at Standard Bank Stadium.
Following Mike Recchia's complete game Saturday, Dustin Williams got the start in game three of the series and struck out the first five batters he faced. He allowed only one hit over the first seven innings and only one man reached second base for London.
His offense backed him up early with two runs in the first. After Chris Wade reached on an error, Cregar hit his third home run of the last two days and his 15th of the season to go ahead 2-0.
The ThunderBolts added solo runs in the second and third. Bob Glover doubled and scored on a wild pitch for the third run and C.J. Gillman's third inning RBI single made it 4-0.
The largest lead was possessed at 5-0 in the sixth. Gillman singled and was at second when Glover's single and an error from Shane Bagley combined to allow Gillman to score.
The Rippers made it interesting in the last two innings. They scored twice in the eighth on three hits to make it 5-2.
In the ninth, with Shane Zegarac pitching, they tightened up further. RBI singles from Jim Vahalik and Brad Agustin made it a one-run game. With runners at first and second and no outs and Andy Mee pitching, Vahalik was caught stealing on a failed sacrifice bunt and Mee got the final two outs to preserve the victory.
Williams (8-2) earned his sixth straight win while Yohan Gonzalez (3-4) lasted only three innings in the loss. Mee picked up his second save.
The ThunderBolts and CornBelters will pick up in the fourth inning of a suspended game Monday night with the Bolts trailing 1-0. The two squads will play a seven-inning game two afterwards. Tyson Corley (0-5, 4.68) will be on the hill for Windy City against Normal's Ryan Krumlauf (3-2, 3.00). The suspended game will resume at 6:05 and both games can be heard on sportsjuice.com.

Box Score