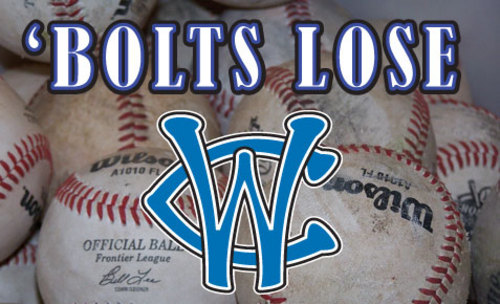 CRESTWOOD, IL – The ThunderBolts erased a late four-run deficit Thursday night, but ultimately fell to the Southern Illinois Miners 8-5 in ten innings at Standard Bank Stadium.
Blayne Weller got the start for Windy City and ran into just one problem inning, the second, in which Matt Fields drew a leadoff walk and moved up to third base on a Ken Gregory double. Fields scored on a Sean Harrell groundout and Gregory scored on a Phillip Butler single.
Andy Chriscaden walked to begin the bottom of the third for Windy City and advanced to second on a groundout. Brandon Pearl's base hit brought Chriscaden home to cut the Miner lead to one. The Pearl single would be the Bolts' only hit in six innings against Cody Hall, making his first pro start.
Weller retired eleven in a row after the two-run second, and Windy City did not have trouble again until the seventh. After Harrell walked to start the inning, Michael Click came in and allowed a one-out single to Cannon Lester. After the ThunderBolts intentionally walked Jake Kaase, Chad Maddox singled home three runs to put the Miners up 5-1.
The Bolts fought back against the Southern Illinois bullpen. Brandon Decker extended his hitting streak to 11 games with a seventh inning homer to make it 5-2.
In the eighth, Bryan Burke and Jareck West each walked in front of Pearl, whose first career home run tied the game at five.
Windy City put the winning run on base twice in the last two innings, but couldn't score and the game went to extra innings.
In the tenth, Maddox walked and Fields singled, moving to second on a throw to third and Maddox scored on a passed ball. Will Block walked and Gregory brought home Fields on a sacrifice fly. Block scored on Elliot Hagburg's single making the final score 8-5.
Anthony Collazo (2-0) pitched 1.2 scoreless innings for the win and Tyson Corley (0-2) gave up all three runs in the tenth for the loss. Max Peterson pitched a perfect tenth inning for his ninth save.
The Bolts will and Miners will continue their series on Friday night. Game two of the series will feature Donovan Drake (0-0, 1.80) on the mound for Windy City and Brian Fowler (3-0, 2.70) will counter for the Miners. It is $1.25 beer night at Standard Bank Stadium for Budweiser Fill 'R Up Friday. It is a 7:05 start time. Anyone who cannot be in attendance can listen to the game broadcast on WXAV, 88.3 fm and WXAV.com.

Box Score