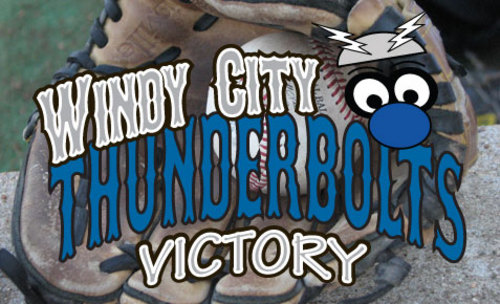 CRESTWOOD, IL – The ThunderBolts came from behind with a six-run sixth inning and defeated the Traverse City Beach Bums 11-5 at Standard Bank Stadium on Wednesday night.
The Beach Bums started the run-scoring in the third inning against Bolts starter John Mincone. The first run came on a bizarre play with runners on first and third and two outs. Mincone's pitch to JT Hall bounced in to catcher Lee Rubin and became lodged in Rubin's chest protector. The umpires ruled it a dead ball and allowed John Parham to score from third. Hall then singled and scored Matt Brown from second.
It was the sixth straight game that the ThunderBolts fell behind and it got worse in the fourth when Greg Burns' two-run homer put the Beach Bums up 4-0.
The Bolts began their comeback in the bottom of the fourth inning. Traverse City starter Bryan Banes was perfect through three but saw Chase Porch reach base in the fourth on a Tom Zebroski error. Porch moved to third on Banes' throwing error on a pickoff attempt. He later scored on Devin Shepherd's single. Two walks later, the bases were loaded for Nick Mahin who picked up his first ThunderBolt hit and drove in two runs cutting the deficit to one.
After the Bums tallied another run in the top of the sixth, Windy City took over in the bottom of the inning. With one out, Chris Wade singled, chasing Banes from the game. Reliever Nolan Shaffer did not retire any of the four batters he faced, allowing singles to Mahin and Lee Rubin before walking Quentin Luquette. Brandon Anderson came up with the bases loaded and missed a grand slam by inches, but managed to clear the bases on a double. Porch then doubled in Anderson and scored on a stolen base and throwing error on catcher John Parham.
The ThunderBolts added two more runs for insurance in the eighth when Porch came up with an RBI single and Mike Torres knocked in a run on a double play grounder sealing the 11-5 win.
Matt Costello finished the sixth inning for Windy City and got the win (3-4) while Shaffer took the loss (5-4).
Windy City and Traverse City renew acquaintances Thursday night on a Bud Light Thirsty Thursday at Standard Bank Stadium. The pitching matchup will feature Windy City's Matt Jernstad (4-6) against the Beach Bums' David Nathanson (First Start). The game starts at 7:05 CDT and can be heard on SportsJuice.com.
Box Score