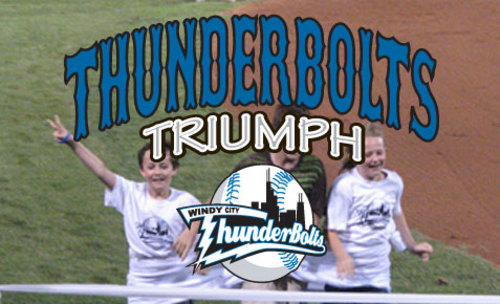 CRESTWOOD, IL – Ryan Basham hit a three-run homer and Bryant Cotton pitched six solid innings as the ThunderBolts defeated the Southern Illinois Miners 5-3 at Standard Bank Stadium Saturday night.
The game began perfectly for Windy City as the offense followed up a Cotton 1-2-3 top of the first with a five-run rally in the bottom of the inning. With one out, Mike Torres and Zach Aakhus each walked against Thomas Campbell and Devin Shepherd singled on the first pitch he saw to score Torres. After Campbell struck out Chad Cregar for the second out, Chris Wade singled home Aakhus. Basham came up after Wade and hit his first homer of the year out to right field to put the Bolts ahead 5-0 by the end of the first inning.
That was all Cotton needed as he cruised through the first five innings without allowing a hit. With two outs in the sixth, the Miners hit safely for the first time when Sean Harrell doubled to right-center. Chase Porch made a diving attempt but came up just short, and the Miners were ready to rally. Two more doubles, off the bats of Will Block and Sean Coughlin, tightened the game slightly, making it 5-2.
Cotton departed after the sixth, having allowed two runs. After the ruling on a third-inning Aakhus error was changed to a hit, Cotton allowed four hits total while walking one and striking out two.
In the seventh, Southern Illinois threatened, loading the bases against Greg Johnson. But Johnson got Harrell to ground out to third to end the threat.
Offensively, the ThunderBolts stalled after the first. The combination of Campbell, Ryan Quigley and Ben Shivers gave up only two hits and three total base runners over the final seven innings.
The Miners tightened up the game further in the ninth. Wes Alsup walked Nate Hall and Eric Suttle picked up an RBI double, but Alsup struck out Josh Womack, Harrell and Block to finish off Southern Illinois, 5-3.
Cotton improved to 4-3 with the win and Campbell dropped to 1-2. Alsup picked up his fourth save.
The season's first half concludes Sunday night with the 6:05 series finale against Southern Illinois. Dustin Williams (6-2) will start for Mike Kashirsky's ThunderBolts against David Harden (4-1) for Mike Pinto's Miners. It is Standard Bank Family Night at Standard Bank Stadium. Fans can get four tickets, four hot dogs and four sodas for $40. Those who cannot make it to the ballpark can hear a live broadcast on WXAV 88.3 fm and wxav.com.
Box Score