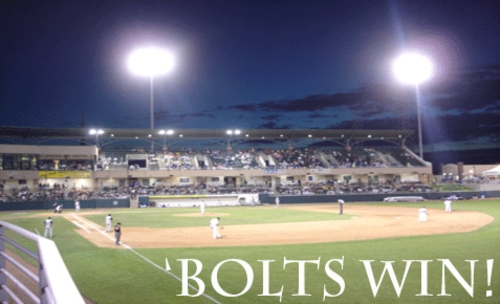 The two teams went back and forth early with Washington scoring first in the second inning. After the bases loaded on two walks sandwiching a single, Chris Raniere picked up the first RBI of the game on a sacrifice fly. Denny Duron's bunt scored the next run.
Windy City responded with one in the fourth inning when Donnie Ecker's two out double scored Mike Sullivan from first base, but Washington added to their lead in the bottom of the inning on an RBI single for Chris Raniere. Luis Rivera scored the run after he had reached on a strikeout wild pitch.
That was the last time the Wild Things would lead, though, as the ThunderBolts scored two unearned runs in the fifth. Gilberto Mejia tripled with two outs and scores on Michael Parker's error at second base. Kent Gerst then came around to score on a Mike Sullivan double to even the score at three.
Windy City broke the tie with five runs in a ten-batter sixth inning. Tim Alberts led things off with a double. After Zach Groh walked Michael Torres and Dan Jordan, he was pulled from the game, and Guillermo martinez proceeded to knock in two runs on a single against reliever Justin Edwards. Gilberto Mejia followed that up with an RBI groundout and Kent Gerst knocked in two more on a single. The inning's scoring ended on a Mike Sullivan RBI double.
Zach Groh was excellent early on, striking out the first five batters he faced, but wore down in the fifth and sixth, taking his first loss (1-1). Ryan Quigley (1-0) picked up his first professional win, throwing the fifth and sixth innings in relief.
Windy City has an off day Monday before travelling to Normal, Il on Tuesday to open the Cornbelters' new ballpark, The Corn Crib. Matt Jernstad (1-1) will be on the mound for the ThunderBolts with the game scheduled for a 7:05 start. Tuesday's game can be heard on WXAV 88.3 fm with pregame beginning at 6:45.