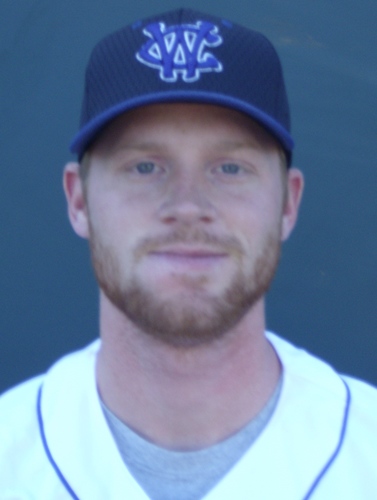 The Windy City ThunderBolts presented by the Vee Pak Hawks scored seven runs in the seventh, eighth and ninth innings, but the River City Rascals scored an unearned run in the bottom of the tenth to give the Rascals their second straight walkoff win.
River City now leads the best of five series 2-0.
The Rascals jumped on the board in the bottom of the first inning as with a runner on second and two down, Ernie Banks hit an opposite field homerun for a 2-0 River City lead. The Rascals would make it 3-0 in the next inning as Danny Sawyer, who had walked and moved to third on a single came in to score on a double play.


Before the ThunderBolts could rally, Ernie Banks hit his second homer of the game to make it 4-0 in the third inning. In the fifth, Windy City would get one of the runs back as Dan Jordan hit his second homer of the series curling around the leftfield foul pole to cut the lead to 4-1.
Right after the Bolts scored however, the Rascals answered, bringing home two runs in the bottom of the inning on a sac fly from Chad Maddox and a single by Banks to make it 6-1. In the sixth, River City put up two runs for a second straight innings to expand the lead to 8-1.
Windy City got a run in the seventh on a Robert Perry groundout to bringing the Bolts to within 8-2. Gil Zayas brought the ThunderBolts closer leading off the eighth, hitting a towering homer to left to make it 8-3. Windy City would record three more hits in the inning, including an RBI double from Bryan Cook and a run scoring single from Gilberto Mejia to score two more and slice the Rascals lead to 8-5.
Not ready to quit in the ballgame, Windy City came all the way back in the top of the ninth as Perry and J. T. Restko led off with singles before Zayas strode to the plate and homered for the second time in the game, a line shot that barely cleared the wall in left, tying the game at 8-8.
The game stayed tied into the bottom of the tenth when, with one out, River City put two runners on thanks to Bolts errors. Ty Pryor was able to strike out Jo-Jo Batten for the second out of the inning before Chad Maddox singled through the middle to score Joe Chavarria for the winning run.
Jason Lowey (2-0) picked up the win pitching 1.2 scoreless innings. Pryor (0-1) took the loss for the ThunderBolts.
Game Three comes up on Friday in Crestwood at 7:05 p.m. with Dustin Pease (12-7, 3.95) starting for Windy City against Daniel Howard (6-5, 5.03) for the Rascals. Friday is the ThunderBolts Patriot Day Celebration at Standard Bank Stadium. All local heroes (fire, police, active and retired military, Boy/Girl/Eagle/Cub Scouts, teachers, EMS) will be granted free admission to the game. For game times, information or tickets, call 708-489-BALL or visit the team's website at
www.wcthunderbolts.com