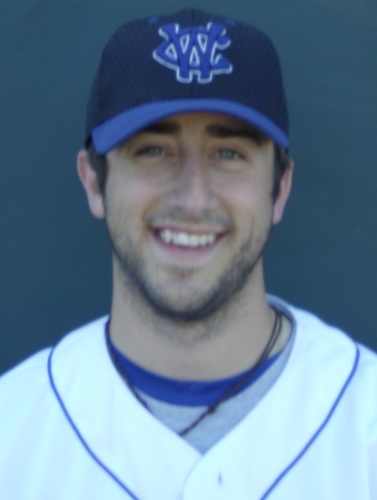 Dustin Pease pitched a eight innings, striking out six as the Windy City ThunderBolts clinched their third consecutive playoff spot, beating the Rockford RiverHawks 10-4.
The ThunderBolts will start the playoffs on Tuesday at River City. All Division Series playoff games will be on 88.3 FM, WXAV. Windy City will host their first game of the 2009 postseason will be on Friday, September 11 at 7:05 p.m. It will be Patriot Day at Standard Bank Stadium with free admission to all local heroes.
Windy City got on the board in the first inning without the benefit of a hit as with runners on first and second and one out, J. T. Restko grounded a ball to shortstop, Jono Brooks, who threw the ball away, bringing home Guillermo Martinez for a 1-0 lead.
In the second, the ThunderBolts broke it open in the second as Bryan Cook led off reaching on a two-base error. Two batters later, the Frontier League Rookie of the Year, Vinnie Scarduzio doubled home Cook, pushing the lead to 2-0. After a walk to Gilberto Mejia, Martinez came up and delivered his second homer on the roadtrip and his third of the season for a 5-0 Windy City advantage. Later in the inning, Pete Paris was able to bring home Robert Perry with a groundout. Perry had singled, stole second and moved to third on a wild pitch.
Two more came across in the fourth as Pete Paris singled into center, scoring Perry and Restko for an 8-run Bolts lead. Rockford scored two runs in the bottom of the fifth on a homerun by Jono Brooks to make it 8-2, but Windy City would respond in the seventh when Gil Zayas doubled home Kraig Binick who had led off the frame with a walk. Each team scored a ninth inning run to cement the final score.
Pease (12-7) was fantastic going eight innings allowing two runs on seven hits. Jose Mateo (1-1) allowed six runs in 1.1 innings in taking the loss.
Windy City will host the Chicago Blackhawks Alumni softball game on September 7 at 4:00 p.m. It is a 16" softball game between the Blackhawks Alumni and the Chicago Fire and Police Departments. Stan Mikita, Dennis Savard and Tony Esposito are among the alumni who will be in attendance. Tickets to the game are $12 and are available at the Standard Bank Stadium box office. The ThunderBolts will host a playoff rally immediately following the softball game at 6 p.m. where individual playoff tickets will go on sale. For game times, information or tickets, call 708-489-BALL or visit the team's website at
www.wcthunderbolts.com