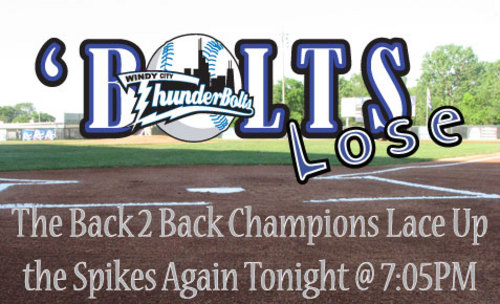 Brad Goldsmith came off the bench to go 2-for-2, driving in four runs and Jake McMurran quieted an eighth inning rally as the Southern Illinois Miners downed the Windy City ThunderBolts 9-3.
The loss drops the ThunderBolts two behind the Miners in the West Division and 1.5 behind Lake Erie for a wild card spot with four to play.
Southern Illinois scored an unearned run in the bottom of the first inning as Tony Roth walked and stole second. Roth then attempted a steal of third, but broke too early. However, Dustin Pease throw to third sailed past Nate Hall at third, allowing Roth to come home with a 1-0 Miners lead.
The Miners would push the lead in the fourth as Joey Metropoulos led off the frame with a long homerun to left, his 30th of the season, for a 2-0 Southern Illinois advantage. The Miners would get another run as Andrew Sweet doubled home Landon Camp giving Southern Illinois a three run edge.
Windy City would get one of the runs back in the top of the fifth as Vinnie Scarduzio led off with a double, moved up on a passed ball and came in to score on a sac fly from Gilberto Mejia, cutting the lead to 3-1. The Miners would get two more in the seventh as Brad Goldsmith delivered a pinch-single to right to make it 5-1.
The Bolts would get the runs right back in the eighth as J. T. Restko singled home Robert Perry and Bryan Cook drove home Pete Paris on a groundout to make it 5-3. Southern Illinois would put the game to bed, however, in the bottom of the inning, the Miners scored four runs, including another two-run single from Goldsmith to go up 9-3.
The win went to Danny Zeffiro (6-4) who went 6.2 innings allowing one unearned run. Jake McMurran held Windy City scoreless for the final two innings of the game, earning his fourth save of the year. Dustin Pease (11-7) took the loss for the Bolts.
The series wraps up on Thursday with Matt Jernstad (6-4, 2.39) going for the Bolts against Ryan Bird (9-6, 2.96) for the Miners. The ThunderBolts will host the Chicago Blackhawks Alumni softball game on September 7 at 4:00 p.m. It is a 16" softball game between the Blackhawks Alumni and the Chicago Fire and Police Departments. Stan Mikita, Dennis Savard and Tony Esposito are among the alumni who will be in attendance. Tickets to the game are $12 and are available at the Standard Bank Stadium box office. For game times, information or tickets, call 708-489-BALL or visit the team's website at www.wcthunderbolts.com