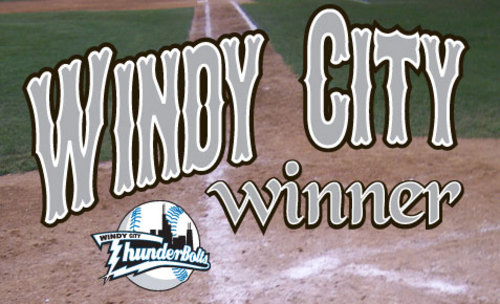 The Windy City ThunderBolts scored in the bottom of the first inning and never trailed as Brandon Garner pitched six strong innings, guiding the ThunderBolts to their fifth straight win, a 4-2 victory over the Traverse City Beach Bums.
After the Beach Bums stranded the bases loaded in the top of the first, the ThunderBolts made Traverse City pay as with two outs in the bottom of the inning, Vinnie Scarduzio hit a solo homer to left for a 1-0 Windy City lead. In the second, Bryan Cook reached on an error to start the inning followed by a single by Tyler Farrar. After a sacrifice moved the runners to second and third, a passed ball by Andrew Barbaro brought home Cook, making it 2-0 and moving Farrar to third. Farrar would come home on a Gilberto Mejia sac fly a few pitches later.
Traverse City got a run in the top of the third inning as Brad Miller hit his fourth homer of the season to cut the Bolts lead to 3-1. TC would pull back to within a run as consecutive doubles in the fourth sliced the Windy City edge to 3-2.
The game would remain that way into the bottom of the sixth when Robert Perry lifted his first homer of the season, pushing the ThunderBolts back up by two. After that the bullpens took over, as neither team was able to scratch anything across the rest of the way.
Brandon Garner (2-1) got the win for Windy City pitching six innings, giving up two runs on five hits. Matt Jernstad worked the ninth for his first save. Jason Kiley (3-6) took the loss for the Beach Bums.
The final of the Traverse City series will be on Sunday as Dustin Pease (5-2, 5.24) on the mound for Windy City against Kevin Reese (4-2, 4.66) for Traverse City. Sunday is Irish Night at the ballpark. Groups of 10 or more will get in for $5 each and fans wearing green will get in for a special price of $7. It is also a Standard Bank Sunday with 2-for-1 coupons available at select Standard Bank locations. For information or tickets, call 708-489-BALL stop by the Standard Bank Stadium ticket office or go to the team's website at
www.wcthunderbolts.com
.