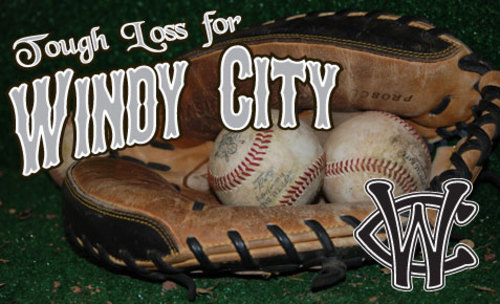 The Evansville Otters scored a run in the bottom of the first inning and starting pitcher Dustin Renfrow made it stand up as the Otters downed the Windy City ThunderBolts 1-0.
Evansville scored a first inning run on a groundout off the bat of Greg Alexander. It was the only run scored in the game as both starting pitchers were magnificent.
ThunderBolts starter Tyler Kelsey went 6.1 innings allowing one run on four hits, walking two and striking out six. Unfortunately for Kelsey, Otters' starter Dustin Renfrow was just a bit better as he went 8.1 shutout innings, giving up just four hits. Renfrow walked one and struck out seven.
Windy City had a chance in the ninth as with one out, Guillermo Martinez reached on an error by Javier Brown. Hustling out of the batter's box, Martinez made it to second on the play and moved to third on a groundout by Vinnie Scarduzio. J. T. Restko came up and drove a ball deep into left-centerfield. Looking for a moment like it would drop, Josh Howard raced over into the gap to make the catch and end the game.
The ThunderBolts continue the series at Evansville on Thursday with Dylan Axelrod (1-0, 1.96) on the mound for Windy City against Kai Tuomi (1-1, 3.51) for the Otters. All three games of the Evansville series will air on sportsjuice.com. Windy City returns home Saturday when the ThunderBolts give you the Best Bang for Nine Bucks with a postgame fireworks extravaganza. There will also be a megaphone giveaway courtesy of the Sertoma Speech and Hearing Center. For information or tickets, call 708-489-BALL stop by the Standard Bank Stadium ticket office or go to the team's website at
www.wcthunderbolts.com
.