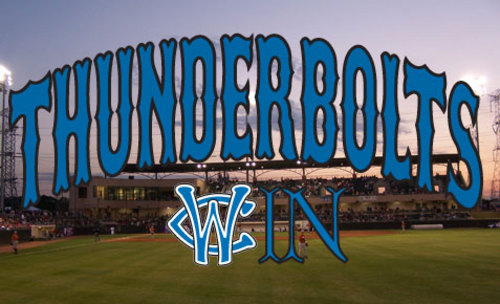 Gilberto Mejia capped a five-hit doubleheader with an RBI triple in the bottom of the sixth inning, earning the Windy City ThunderBolts a split of their doubleheader against the Southern Illinois Miners, winning game two 6-4.
Southern Illinois took the opener 10-1.
Windy City leapt out on the board in game two with a couple of runs in the first inning capped by a J. T. Restko homer for a 2-0 Bolts lead. Two more runs came across in the second inning on a Doug Coe RBI single and a Dan Jordan RBI double. Also in the second inning, Gilberto Mejia reached on an infield single. That plus the two hits he recorded in game one extended his hitting streak to 25 games.
The Miners got a run in the fourth to cut the lead to 4-1. Helped by Windy City wildness, Southern Illinois plated three runs in the fifth to know the contest at 4-4.
Staying tied into the sixth, Windy City got their leadoff man Nate Hall aboard with a walk. After Damian Walcott came in to run for Hall, Doug Coe sacrificed him to second. Vinnie Scarduzio walked to put runners on second and third. Two batters later, Gilberto Mejia came up and lined the first pitch he saw into the rightfield corner for a two-run triple and a 6-4 Bolts lead.
Billy Petrick (1-0) pitched the final 1.1 innings perfectly to record his first win as a ThunderBolt. Mike Damchuk (0-2) took the loss for Southern Illinois.
Game one was scoreless into the fourth, Jereme Milons put Southern Illinois on the board in the top of the fourth inning with a three-run homer to put the Miners up 3-0. Windy City would get a run back in the fifth when Guillermo Martinez tripled home Gilberto Mejia who had singled.
The game would remain 3-1 into the seventh when Southern Illinois put up seven runs, highlighted by a Brad Miller grand slam to win game one 10-1. Joe Augustine (1-3). picked up the game one win, with a save being credited to Chris Wiman. Tyler Kelsey (3-2) took the loss.
The ThunderBolts now head out on a six game road trip to River City and Evansville. In the first game of the River City series Dustin Pease (4-1, 4.44) will start for Windy City against Jake Laber (4-1, 4.33) for the Rascals. The game will air on sportsjuice.com with Bolts Backtrack preceding the pregame show starting at 5:30. For information or tickets, call 708-489-BALL stop by the Standard Bank Stadium ticket office or go to the team's website at
www.wcthunderbolts.com
.
###