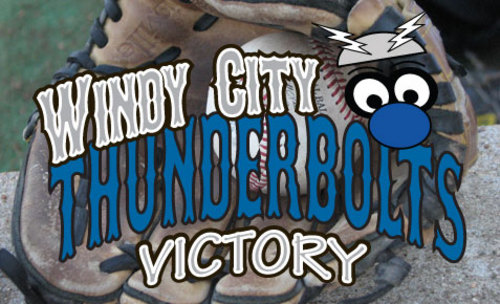 The Windy City ThunderBolts got strong starting pitching from Tyler Kelsey and broke open a one run game with a three-spot in the ninth inning, downing the Southern Illinois Miners 5-1.
Windy City started the offense in the third inning as Nate Hall led off with a ground-rule double to center. After moving to third on a fly out, Hall came in to score on a single from Zach Aakhus, giving the Bolts a 1-0 lead. In the fifth, Vinnie Scarduzio jumped on the first pitch from Joe Augustine, belting it over the centerfield fence for a homerun and a 2-0 Windy City tally.
Southern Illinois would get onto the board in the fifth as Tony Roth led off the inning with a long homer to left, the first hit of the game for the Miners. It wasn't the last hit of the inning as with one out, Randy Molina and Gered Mochizuki singled back-to-back to put runners on first and second. But Tyler Kelsey was able to get out of the inning as he induced Kevin Koski to hit into a double play ending the frame.
The ThunderBolts would add some insurance in the ninth. Bryan Cook led off with a single. Tony Gonzalez came up and laced a triple down the rightfield line to score Cook for a 3-1 WC lead. Two batters later, the Bolts executed a suicide squeeze for the second time in four nights. On the play Gonzalez scored and Nate Hall beat the play to first for a single. After a sacrifice, Zach Aakhus rounded out the scoring with a single through the left side, plating Nate Hall for a 5-1 Windy City advantage.
Tyler Kelsey (3-1) got the win for the Bolts going 5.2 innings, allowing four hits and one run while striking out five. Adam Dominick and Matt Jernstad pitched 1.2 innings of scoreless ball before giving way to Dylan Axelrod who recorded the final five outs of the game for his third save of the year.
Gilberto Mejia singled with two outs in the eighth inning, extending his hitting streak to 19 games.
Windy City returns to Crestwood for a six-game homestand on Monday with Educator Appreciation Night at Standard Bank Stadium. Educators can bring their school, library or district ID and get into the ballpark for $5. Prizes will be given away thoughout the night from local educator and teacher stores. Brandon Kloess (0-0, 1.59) will make his first start of the season for the ThunderBolts against Jake Laber (3-1, 4.34) for the Rascals. For information or tickets, call 708-489-BALL stop by the Standard Bank Stadium ticket office or go to the team's website at
www.wcthunderbolts.com
.
###