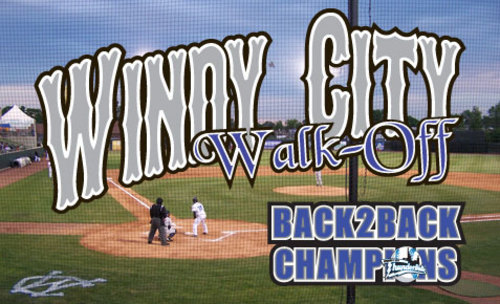 Ross Stout pitched seven sterling innings as the Windy City ThunderBolts won the middle game of their weekend series with the Midwest Sliders 9-0.
With the victory, the ThunderBolts became the first team in the Frontier League to reach the 10 win mark in 2009.
Windy City jumped out in the bottom of the first inning. With two on and two out, Tony Gonzalez lined a single into left-center, scoring both Gilberto Mejia and Bryan Cook for a 2-0 Windy City lead. In the second, the ThunderBolts got a leadoff triple from Tyler Farrar. Two batters later, Zach Aakhus was hit by a pitch to put runners on the corners. Following a foul out, Guillermo Martinez hit an infield single to score Farrar. In the process, the throw from Roberto Mena sailed into the Midwest dugout also allowing Aakhus to come home. J. T. Restko came up next and brought home Martinez with a single to make it 5-0.
The Bolts tacked on a couple more in the fourth to go up 7-0. In the sixth, Windy City was able to get two more on a pair of sacrifice flies from Gilberto Mejia and Guillermo Martinez to take a 9-0 lead.
The story of the game, however, was ThunderBolts starter Ross Stout. After recording a 5.79 ERA through his first three outings, Stout (1-0) put it all together going seven shutout innings, surrendering eight hits - all singles – walking none and striking out 10. Brandon Garner and Matt Jernstad pitched a scoreless eighth and ninth respectively. Chris Nyman (0-2) allowed five runs in two innings, absorbing the loss for Midwest.
Offensively for Windy City, Guillermo Martinez went 2-for-4 with a pair of RBI and two runs scored. Gilberto Mejia went 1-for-3, extending his hit streak to 12 games.
The series finale against the Sliders will see Stephen Flake (0-1, 6.14) against James Albury (0-0, 3.14) for Midwest. Sunday is a Standard Bank Sunday where Standard Bank custormers can receive 2-for-1 tickets with a coupon available at participating Standard Bank Locations. The game will air on 88.3 FM, WXAV with Bolts Backtrack, a week in review show starting at 5:30. For information or tickets, call 708-489-BALL stop by the Standard Bank Stadium ticket office or go to the team's website at
www.wcthunderbolts.com
.
###