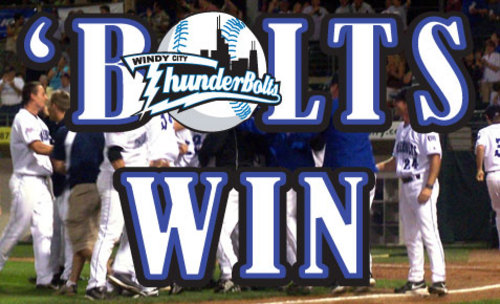 Tyler Kelsey started the game with 5 2/3 no-hit innings en route to throwing a brilliant two-hit shutout as the Windy City ThunderBolts blanked the Lake Erie Crushers 7-0.
A pitchers duel was on tap from the get-go as both Tyler Kelsey and Josh Faiola were on top of their games. The game remained scoreless into the sixth when Faiola walked the first two batters of the innings. J. T. Restko came up and hit a grounder to third. Andrew Davis tried to tag Guillermo Martinez on his way to third base, but missed the tag and lost the ball in the process, loading the bases. Following a strikeout, Nate Hall came up and hit a sacrifice fly to center, scoring Martinez for a 1-0 Windy City lead.
The fireworks were just beginning as Vinnie Scarduzio came up next and clocked a three-run homerun off the scoreboard in rightfield for a 4-0 ThunderBolts advantage.
After that the story was Tyler Kelsey. Taking a no-hitter into the sixth, Kelsey retired the first two batters of the inning on strikes before Jodam Rivera laced a 1-1 pitched down the leftfield line for a double, breaking up the no-hit bid.
Windy City would add a run in the seventh on an RBI single by Guillermo Martinez, scoring Gilberto Mejia who reached on an error and stole both second and third. The Bolts tacked on another in the eighth on an RBI triple by Zach Aakhus, scoring Vinnie Scarduzio who had doubled. Gilberto Mejia followed two batters later with a double of his own to score Aakhus and make it 7-0 WC.
Meanwhile Kelsey (2-0) was masterful allowing just two hits in his first professional complete game and shutout. He walked three and struck out seven. Josh Faiola (0-2) took the loss for Lake Erie
The series finale will see Shane Zegarac (1-1, 9.00) pitching for Windy City against Darwin DeLeon (0-0, 2.25) for Lake Erie. Thursday's day's game in the Crushers series will be aired on sportsjuice.com with the pregame show starting at 5:45. Windy City will return home with a Fill 'R Up Friday on June 5 against the Midwest Sliders. For information or tickets, call 708-489-BALL stop by the Standard Bank Stadium ticket office or go to the team's website at
www.wcthunderbolts.com
.