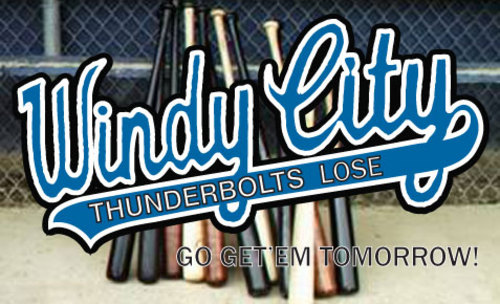 The Windy City ThunderBolts rapped out a season high 17 hits, but left 14 men on base as the Midwest Sliders ended the Bolts four-game winnings streak, downing WC 9-6
The ThunderBolts struck first scoring a run in the top of the first inning on an RBI single from Bryan Cook. In the second the Bolts got a pair of runs, the first of which coming on Vinnie Scarduzio's first career homerun to go up 3-0.
Midwest tied the game on a controversial play in the third. With two runs in and runners on second and third, Roberto Mena popped up to Gilberto Mejia. Jeremy Jones tagged and scored. Thinking that the ball had dropped, Jonnie Knoble raced around from second base, crossing home plate. The ThunderBolts realizing his baserunning error, threw back to second for the force. The run was originally counted, but between innings, the umpires conferred and the run was taken off the board. During the next inning break, another conference occurred and the run was reestablished, tying the game at 3-3.
The bottom of the third inning made it a moot point as the Sliders batted around plus one, scoring six times to take a 9-3 lead. Windy City would get one back in the fifth on an RBI single from Tyler Farrar to make it 9-4.
Windy City chipped further into the lead in the seventh inning when with two on and nobody out, Zach Aakhus delivered a sac fly and Gilberto Mejia followed with an RBI single to cut the Midwest advantage to 9-6.
That was as close as the ThunderBolts would get however as Earl Oakes shut the door in the ninth. Mike Penn (2-0) picked up the win for Midwest while Shane Zegarac (1-1) took the loss for Windy City.
Offensively, the ThunderBolts got nice performances from Tyler Farrar who went 3-for-5 in the game. J. T. Restko and Bryan Cook had two hits apiece. Mike Sullivan singled in the first inning, extending his hitting streak to 14 games dating back to last season.
Windy City will play at 5:05 p.m. CDT Saturday night against the Sliders. Dustin Pease will take the hill for the ThunderBolts. Saturday's and Sunday's games in the Midwest series will be aired on 88.3 FM, WXAV. For information or tickets, call 708-489-BALL stop by the Standard Bank Stadium ticket office or go to the team's website at
www.wcthunderbolts.com
. You can also download the ThunderBolts daily podcast by going to the team's website and clicking on Multimedia/mp3 in the Fan Zone drop down.
###