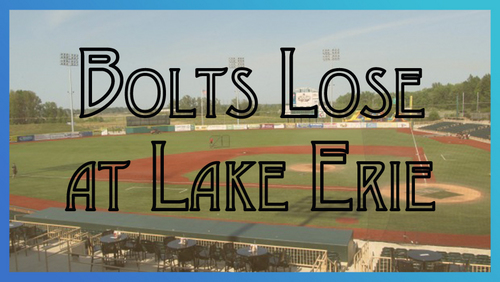 Avon, OH – The long road trip continued Wednesday night for the ThunderBolts, (31-54) as their 3 game series with the Lake Erie Crushers (44-42) at Mercy Healthcare Stadium continued with a 9-1 loss.
Unlike a night ago when the Bolts plated 4 runs in the first frame, it was all Lake Erie on Wednesday, as they scored early and often. The Crushers pounded out 6 hits through the first 3 innings against RH Jack Alkire (L, 0-3). Alkire didn't help his cause either, issuing three bases on balls through the first two frames. All told, Alkire labored through 5 innings, giving up 7 hits, walking three and striking out eight on 110 pitches.
Already leading 4-0 in the 3rd inning, three more extra base hits by the Crushers (Irizarry, Stewart and Gaskins), an Alkire wild pitch and a Najee Gaskins stolen base stretched the Crushers lead to 6-0. That is all that Lake Erie RHP Matt Mulhearn (W, 6-3) would need. By night's end, the former Gateway Grizzlies' hurler tossed 7 innings of four hit baseball, while striking out 6.
The Bolts' lone run came in the 3rd inning. Kole Kaler walked to lead off the frame, then Jonathan Nieves hit a sharp single to put runners on the corners. The ensuing batter, Jalen Greer, hit a deep flyball to centerfield that allowed Kaler to tag and score. It was a sacrifice fly RBI, and the lone tally of the night for Windy City.
To save his bullpen after a heavy workload a night ago, Windy City manager Brian Smith turned to position player Jairus Richards to pitch the 8th inning. It was the right-hander's fourth appearance of the year out of the bullpen. He allowed 1 earned run while walking three.
The Thunderbolts' 9 game road-trip concludes tomorrow evening, with game 3 of the series against the Lake Erie Crushers. First pitch scheduled for 6:35 PM. Broadcast information can be found at wcthunderbolts.com.