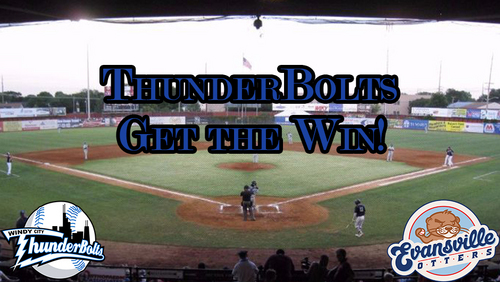 EVANSVILLE, IN – A strong pitching performance from Kenny Mathews and a big offensive performance for Bren Spillane guided the ThunderBolts to a 5-2 victory over the Evansville Otters in the opener of a three-game series at Bosse Field Tuesday night.
After a good early duel between Mathews and Austin Gossman, the scoring started in the top of the fourth. Jake Boone hit a leadoff single and Dan Robinson doubled to put runners at second and third. Spillane followed with a two-run double that put the ThunderBolts (30-48) ahead 2-0. Peyton Isaacson extended the lead by singling in Spillane.
That turned out to be enough for Mathews who continued to dominate Evansville (41-37). The left-hander pitched out of two bases-loaded jams and ended up throwing five shutout innings. In three starts this year against the Otters, he has allowed only one run over 15.2 innings.
Spillane added some insurance to the lead in the eighth inning. After Brynn Martinez singled, he launched his eighth home run of the year to increase the lead to 5-0.
The Otters made it interesting in the bottom of the ninth. They scored two runs on two hits, an error and a walk and, with runners at second and third, they had the tying run in the batter's box. But Layne Schnitz-Paxton finished the game with a strikeout.
Mathews (7-3) picked up his third straight win, striking out four and allowing five hits, while Gossman (7-5) took his second straight loss, both against the ThunderBolts. He allowed three runs over 6.2 innings.
The ThunderBolts continue their series and their nine-game road trip on Wednesday evening. With a 6:35 scheduled first pitch from Bosse Field, Ryan O'Reilly (5-6, 5.00) will take on the Windy City lineup. The Bolts have not yet announced a starter. The broadcast can be found through wcthunderbolts.com.