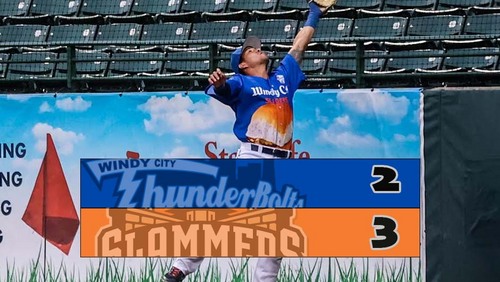 CRESTWOOD, IL – Jack Alkire allowed only one hit through the first seven innings Thursday night but the ThunderBolts' offense was held to one hit for the game as they fell 3-2 to the Joliet Slammers at Ozinga Field.
Jake Boone led off the bottom of the second inning for the ThunderBolts (26-41) with a hit by pitch and Jairus Richards followed with a walk. That brought Payton Robertson to the plate with two on and he rolled a single through the left side of the infield for an RBI. With two on and no outs, the Bolts were unable to tack on more runs in the inning and Robertson's RBI single turned out to be the only safety in the game for the home side.
The lack of hits didn't keep them off the scoreboard. After Robertson walked in the fifth inning, he stole second base and moved to third on a passed ball. He scored when Brynn Martinez hit a sacrifice fly, making it 2-0.
Alkire was dominant on the mound. He didn't allow his first hit until there were two outs in the fifth inning. Joliet's only early scoring threat came in the fourth when they put two on with no outs on back-to-back errors. Alkire pitched out of the jam to keep the lead.
The Slammers (33-35) broke through against the Windy City bullpen, scoring twice in the eighth on four hits and a walk and tying the score.
In the ninth inning, JP Fullerton doubled and Matt McGarry brought him home on a sacrifice fly to deliver the winning run.
Tanner Kiest (2-2) pitched a scoreless inning of relief for the win and Layne Schnitz-Paxton (3-4) allowed the final run for the loss.
The ThunderBolts will try to bounce back on Friday in the opener of a three-game road trip against the Schaumburg Boomers. Game one from Wintrust Field will feature Adam Wheaton (0-1, 10.80) making his second start for the Bolts against Schaumburg's Shumpei Yoshikawa (4-8, 6.42). First pitch is scheduled for 6:30 and the broadcast can be found at wcthunderbolts.com.