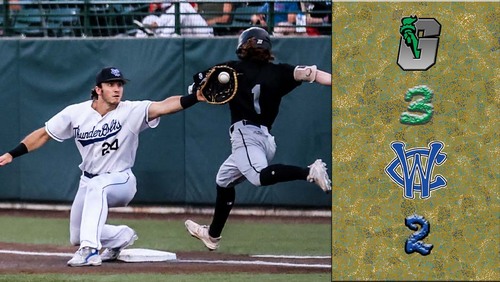 CRESTWOOD, IL – The Empire State Greys broke a 2-2 tie with a run in the top of the ninth to take down the ThunderBolts 3-2 at Ozinga Field.
For the second straight game, the Greys (5-60) got on the board in the first inning. It took just three batters for them to grab a 1-0 lead. The First two batters of the night walked and Camden Williamson picked up an RBI single to make it 1-0.
Garrett Christman settled in, walking just one more and striking out seven over his time in the ballgame.
The ThunderBolts (24-40) knotted it up with a run in the bottom of the third as Nikola Vasic hit the first home run of his professional career.
The next half inning, Empire State reclaimed the advantage. Jordan Holloman-Scott singled and scored on a Will Decker base hit to make it 2-1.
Daryl Myers singled with one out in the bottom of the fifth and came home on a Brynn Martinez double and again the score was tied. This time it remained that way for a while. Neither team scored again until the ninth.
The Greys led off that inning with back-to-back hitters reaching on errors. Pinch hitter Trey Woosley came up with a sacrifice fly to bring home the game-winning run.
Franklyn Hernandez (1-1) pitched the final two scoreless innings for the Greys, earning the win and giving the team back-to-back victories for the first time. Dazon Cole (0-2) was the tough-luck loser, pitching one inning without allowing an earned run.
The ThunderBolts look to avoid the sweep on JULIE Family Sunday at Ozinga Field. Bryan Ketchie (3-4, 5.40) gets the start for the ThunderBolts and Empire State counters with Alberto Rodriguez (0-2, 5.85). First pitch is slated for 2:05 CDT and the broadcast can be found through wcthunderbolts.com.