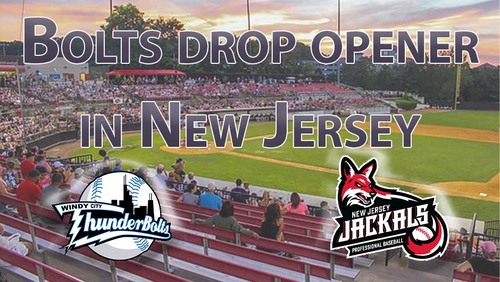 LITTLE FALLS, NJ – Three times Friday night, the ThunderBolts were unable to hold onto one-run leads as they fell in their first all-time meeting with the New Jersey Jackals, 5-4 at Yogi Berra Stadium.
New Jersey (28-29) jumped out to a quick lead when Dalton Combs picked up an RBI single in the bottom of the first inning.
The ThunderBolts (23-34) rebounded with two runs in the top of the second. Brian Fuentes walked, Bren Spillane singled and both men scored on a Joshuan Sandoval base hit.
Windy City's first lead of the game lasted until the fourth, when Justin Wylie hit his 14th home run of the year, a solo shot that tied the score. That began a back-and-forth trend as a single run was scored in five consecutive half innings. Brynn Martinez brought one in for the Bolts on a fielder's choice before Frontier League hit king Santiago Chirino tied the score with an RBI single.
The Bolts took an important one-run lead in the sixth when Spillane walked and later scored on a wild pitch but there was again a fast response as Trevor Abrams hit an RBI single.
The Jackals threatened in the later innings but Windy City relievers kept the game tied into the tenth. After the ThunderBolts failed to score in the top of the inning, New Jersey got a leadoff single from Combs, advancing the winning run to third base. Alfredo Marte followed with a grounder to second which Fuentes threw home errantly. The fourth error of the night for the Bolts proved to be the final nail in the coffin as the Jackals scored the winning run.
Jack Alkire allowed three runs over five innings in his Windy City debut and did not factor in the decision. Jose Ramirez (3-0) picked up the win for New Jersey and Dazon Cole (0-1) took the loss in his season debut.
Game two of the series is set for 5:05 CDT Saturday night at Yogi Berra Stadium. Miguel Ausua (2-4, 6.12) will make the start for the Bolts. The broadcast can be found through wcthunderbolts.com.