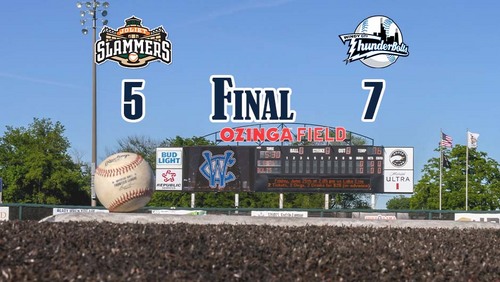 CRESTWOOD, IL – The ThunderBolts rallies from an early deficit to put away the Joliet Slammers 7-5 in the penultimate game at Ozinga Field Friday night.
The Slammers (38-56) took advantage of two ThunderBolt errors and picked up three hits in the first inning to put two runs on the board.
The Bolts (43-52) got one back in the bottom of the inning on back-to-back doubles from Payton Robertson and Brynn Martinez.
Joliet extended their lead with a Scott Holzwasser RBI double in the second but the ThunderBolts bounced right back again. Nikola Vasic and Rob Weissheier picked up RBI singles to tie the score and Jace Mercer's two-run homer in the third put the Bolts in the lead for good.
In the fifth inning, Martinez walked and stole two bases before scoring on an error. Then, the Bolts got their last run in the sixth when Zac Taylor tripled and came home on a Jack Strunc single.
Carson Maxwell hit a seventh-inning home run for Joliet but they could not muster any more offense over the final two innings as Ryan Hare got the final six outs for his third save.
Kenny Mathews (8-9) picked up the win, his fifth in his last six decision. He lasted five innings and allowed four runs (two earned) with six strikeouts. Brett Smith (5-3) took the loss after allowing four runs out of the bullpen.
The 2021 season wraps up on Saturday night with game two between the ThunderBolts and Slammers. Logan Wiley (6-3, 3.15) gets the start for Windy City against Joliet's Logan Lyle (0-4, 5.26). The game will be followed by the first of two Super Mega Firework Spectaculars this weekend, presented by Lumina Pyrotechnics. Tickets as well as links to the audio and video broadcasts can be found at wcthunderbolts.com.