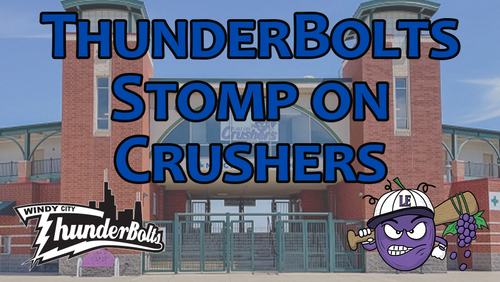 AVON, OH – After losing an early lead, the ThunderBolts came back late, scoring three runs in the eighth and one more in the ninth to defeat the Lake Erie Crushers 7-4 at Mercy Health Stadium Saturday night.
For the second straight night, the Bolts (40-49) jumped out to an early 3-0 lead. They scored two runs in the second inning, getting hits from Donivan Williams and Payton Robertson. Then, they added one in the third when Peyton Isaacson walked and Zac Taylor doubled him in.
Lake Erie (39-49) chipped away at the lead, getting single runs in the third and fifth. Both rallies were started by former ThunderBolt Zach Racusin, who finished with three hits and scored two runs.
Javier Betancourt gave Lake Erie a 3-3 tie with a solo homer in the sixth inning and the Crushers took the lead when Shawon Dunston, Jr. walked, stole two bases and came home on a passed ball.
The ThunderBolts trailed 4-3 into the eighth inning but they started that frame with four straight hits. Jack Strunc's bloop single brought home the tying run and Donivan Williams put the Bolts ahead for good with an RBI double. A Robertson sacrifice fly capped the inning and Brynn Martinez hit an RBI single in the ninth to add insurance and make the final 7-4.
Lake Erie had their chances late in the game but they ended up stranding 14 runners on base.
Neil Abbatiello (3-4) lost the lead but pitched two innings for the win. Aaron Glickstein (4-5) allowed two runs out of the Lake Erie bullpen for the loss. Brayden Bonner pitched the ninth for his fourth save.
Game three of the four-game series is scheduled for Sunday afternoon. Kenny Mathews (7-9, 4.85) gets the start for the Bolts against Lake Erie's Ryan Feierabend (8-5, 2.80) with first pitch scheduled for 1:05 CDT. Links to the audio and video broadcasts can be found at wcthunderbolts.com.