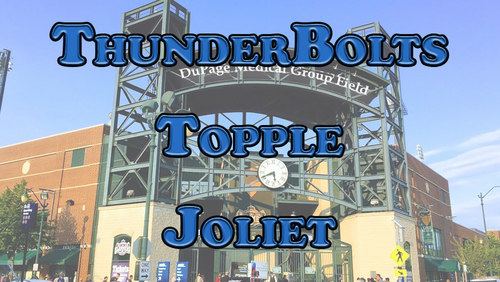 JOLIET, IL – After losing a two-run lead in the bottom of the ninth inning, the ThunderBolts scored twice in the top of the tenth to knock off the Joliet Slammers 5-3 in the opener of a three-game series at DuPage Medical Group Field Friday night.
Both Logan Wiley of the ThunderBolts (35-40) and Logan Lyle of the Slammers (27-47) got off to strong starts on the mound as neither team had a hit over the first three innings.
Joliet broke through and scored first in the bottom of the fourth. They loaded the bases on two walks and a single. Lane Baremore then hit a groundball to third base. The Bolts got the force at second but the relay throw was too high for first baseman Rob Weissheier and a run scored. Weissheier recovered the errant thrown and caught a second runner trying to score on the play.
The first hit for the ThunderBolts came in the sixth inning, when Donivan Williams hit the first pitch over the leftfield wall for a game-tying home run. Williams struck again in the eighth inning. He was hit by a pitch and scored all the way from first base on a hit and run that saw Anthony Rios ground a base hit into right.
The ThunderBolts extended the lead to 3-1 in the ninth, when Dan Robinson singled and Weissheier tripled him in.
In the bottom of the ninth, Brayden Bonner retired the first two batters but Joliet came up with three straight hits, including a two-run double from Kyle Jacobsen that tied the score.
Tied at three in the tenth, the ThunderBolts took the lead back on an RBI single from Williams. He later came in to score on a wild pitch. Joliet scored their tiebreaker run in the bottom of the inning but couldn't get any more.
Wiley threw eight strong innings but did not factor in the decision. Bonner (1-0) picked up his first pro win. Tyler Charpie (3-4) pitched the tenth for Joliet and took the loss.
Game two of the series is scheduled for Saturday night at 6:05. Bryan Ketchie (2-5, 5.57) gets the start for the ThunderBolts. Links to the audio and video broadcasts can be found at wcthunderbolts.com.