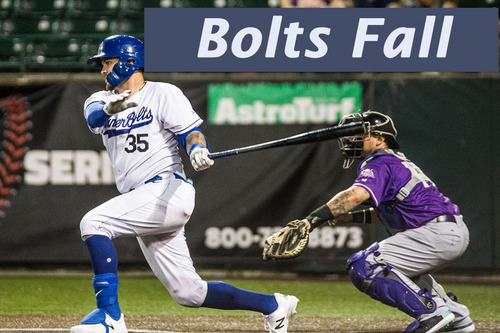 AVON, OH – The ThunderBolts combined with the Lake Erie Crushers for four home runs but only one was hit by a ThunderBolt in a 7-2 loss at Sprenger Stadium Wednesday night.
Jake Vieth's solo homer for Lake Erie (47-39) started the scoring on the first pitch of the second inning. Vieth struck again the next inning when he hit a two-out RBI single, scoring Aaron Hill who had drawn a leadoff walk.
Trailing 2-0 in the fourth, the ThunderBolts (37-50) made their move when Tanner Gardner drew a base on balls and Tyler Alamo cranked his 14th home run of the year, evening the score at two.
After the first two batters were retired in the bottom of the fourth, Zach Racusin singled and Hill reached on an error to extend the inning for the Crushers. Emmanuel Marrero hit a three-run homer to give them a lead that they held the rest of the night.
Racusin hit a solo home run in the sixth inning and a Logan Farrar RBI groundout later in the inning made it a 7-2 Lake Erie lead.
That proved to be more than enough to win as the ThunderBolts managed only one more base runner following Alamo's home run. They finished the game with just three hits against the combination of Sean Johnson and Kent Hasler.
Johnson (3-0) tossed six innings to secure the win and Hasler did not allow a hit over three innings for his sixth save.
Cole Bellair took the loss for the Bolts, allowing five runs (two earned) on seven hits over five innings.
The ThunderBolts are 3-3 on their final road trip of the year and will try to secure a winning record as it wraps up on Thursday evening. Chris Washington (3-8, 3.92) gets the start in the finale at Sprenger Stadium. First pitch is scheduled for 5:35 and the radio broadcast can be heard on WXAV, 88.3 FM and wxav.com.