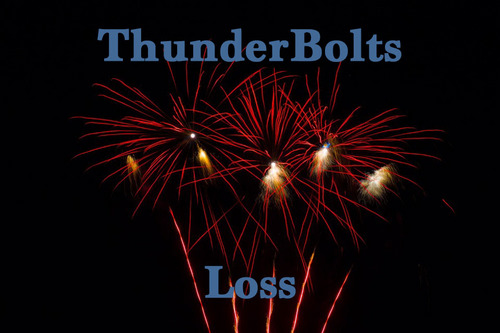 SCHAUMBURG, IL – The Schaumburg Boomers jumped out to a 6-0 lead over the first two innings and went on to finish off the ThunderBolts 13-5 at Boomers Stadium Thursday night.

Schaumburg (24-24) wasted no time in taking the lead as the first three batters in their lineup all got hits with Jimmy Galusky driving in a run on a triple and Quincy Nieporte picking p the first of his four BRIs on a single. After Austin Jones recovered to record two outs, the Boomers rebounded, loading the bases in front of a two-run Connor Oliver single that made the score 4-0.

Matt Rose added to the lead with a two-run double in the second inning, putting the ThunderBolts (21-26) down 6-0.

The offense perked up in the fourth inning. After their first ten batters were retired, they came up with four straight singles with Tyler Alamo and Shane Carrier picking up RBIs. They ended up loading the bases but didn't add any more runs.

Nieporte made the score 7-2 with a solo home run in the bottom of the fourth, the only run allowed by Sean LeLand in his four innings worked.

The Boomers put the game away with six runs in the seventh inning, which featured five walks and three wild pitches. Clint Hardy and Nieporte had the only two hits in the inning, both RBI singles.

In the ninth inning, the Bolts came up with three runs on five hits. Chase Cockrell hit an RBI double and Jordan Swiss and Micah Coffey each had RBI singles, but it was too late for the ThunderBolts, who fell eight runs short.

Christian Aragon (2-0) picked up the win with three shutout innings of relief and Jones (1-4) allowed six runs over two innings to take the loss.

The ThunderBolts' road trip continues with game one of a three game set at Joliet on Friday night. Tyler Thornton (3-1, 2.25) will get the start for the Bolts. The Slammers haven't announced a starting pitcher. First pitch from DuPage Medical Group Field is at 7:05 and the radio broadcast is on WXAV, 88.3 FM and wxav.com.