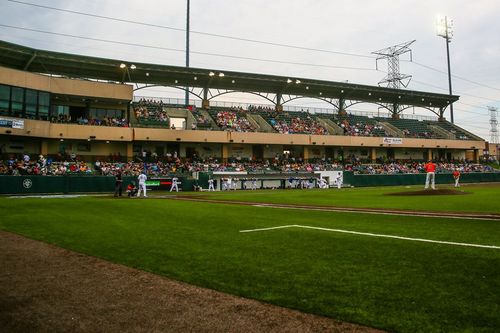 O'FALLON, MO – The ThunderBolts scored four runs in the first inning and cruised to a 4-2 victory in game one of a doubleheader before the River City Rascals took a back-and-forth game two 8-5 at Carshield Field Tuesday night.
Omar Obregon led off game one with a base hit before Tim Zier tripled him home to give the ThunderBolts (28-40) a quick lead that they never gave up. After Axel Johnson walked, Blair Beck hit a three-run homer that made the score 4-0.
That turned out to be enough for the Bolts as the Rascals (35-33) managed just one run in the first on a Mike Jurgella sacrifice fly and one run in the third on a Jurgella RBI single.
Connor Bach (3-1) allowed two runs in five innings and picked up the win while Josh Kimborowicz (3-4) took the loss, allowing four total runs in 4.1 innings. Devin Raftery pitched a scoreless seventh for his tenth save.
The win was the ThunderBolts' first at River City since June 30, 2013, snapping a 12-game losing streak.
Game two started strong for River City as Braxton Martinez hit a two-run single and Clint Freeman hit a two-run homer and the Rascals led 4-0 after one inning.
The ThunderBolts fought back with two runs in the fourth. Johnson hit an RBI single and Tyler Straub hit an RBI double.
In the fifth, Derek Bangert's first career hit was a home run that brought the Bolts to within one at 4-3. Zier singled later in the inning and Johnson hit a two-run homer to put the ThunderBolts on top 5-4.
The lead was short-lived as Jurgella hit an RBI single to tie the score in the bottom of the inning and Paul Kronenfeld reclaimed the lead with a two-run homer. An error in the sixth added one more to make the final score 8-5.
Joe Iorio (5-1) picked up the win in relief and Drew Peden (2-2) took the loss. Cody Mincey wrapped it up for his 18th save.
Jake Welch (5-3, 3.39) gets the start for the ThunderBolts when the series resumes with game three on Wednesday night. The Rascals counter with Jonny Ortiz (4-1, 3.97). First pitch is scheduled for 6:35 and the broadcast can be heard on WXAV 88.3 FM and wxav.com.