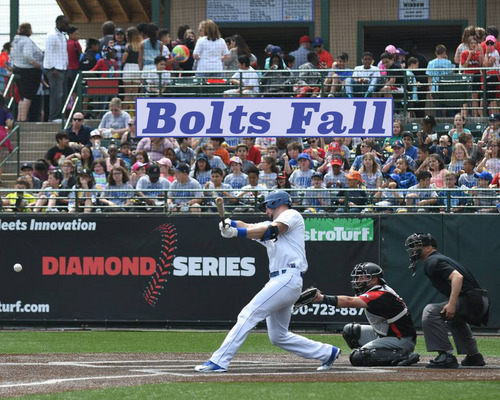 CRESTWOOD, IL – ThunderBolts pitchers walked nine batters as the Schaumburg Boomers pulled away early to beat the Bolts 7-2 at Standard bank Stadium Thursday night.
The Boomers (7-10) loaded the bases in the second inning on a single and two walks. Jack Parenty brought home the first run on a single and Sean Godfrey brought in another on a bases loaded free pass.
Riley Krane led off the bottom of the second with a double and Blair Beck did the same in the third as the ThunderBolts (7-9) tried to cut into the lead. Both men were stranded at third base.
Schaumburg doubled their lead in the fourth inning. They loaded the bases again on two hits and a walk. The first run came in on a double play and the second on a Collin Ferguson RBI single.
Two more runs scored without a hit in the sixth. A hit batter and two walks filled the bases before a run scored on a wild pitch. After another walk reloaded the bases, a second wild pitch made the score 6-0.
They tacked on one more on a James Keller RBI single in the seventh.
The Bolts offense got going in the seventh when Larry Balkwill walked and Brandon Rawe picked up an RBI double. They scored their second run in the following inning as Will Krug tripled and Tyler Straub singled him home.
Joe Hauser (2-0) threw seven strong innings for Schaumburg and took the win. Jaramy Jacobs (0-2) was the loser. He allowed four runs in 3.2 innings.
The ThunderBolts continue their five-game homestand on Friday as the Washington Wild Things come to town. Jake Welch (2-0, 2.25) will pitch game one on Bolts Jr. Night at the ballpark with appearances by Chase from Paw Patrol, Mickey Mouse, the Teenage Mutant Ninja Turtles and Poppy from Trolls, as well as fireworks after the game. First pitch is scheduled for 7:05 and fans not in attendance can hear the radio broadcast through wcthunderbolts.com.