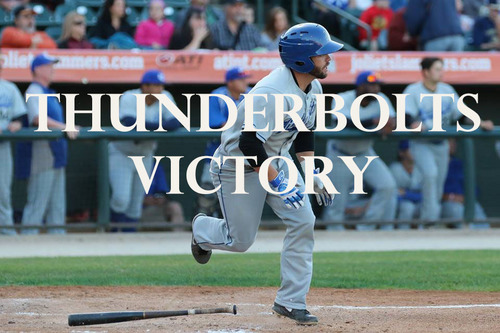 TRAVERSE CITY, MI – The ThunderBolts bounced back from a tough Saturday loss on Sunday. They never trailed in a 5-2 victory over the Beach Bums at Wuerfel Park.
The ThunderBolts (45-38) broke out with four runs in the third inning. Ransom LaLonde got it started with a double and Blair Beck walked. Keenyn Walker took his place on a fielder's choice before Coco Johnson brought home the first run on his second of three hits for the game. Tim Zier walked to load the bases in front of Larry Balkwill, who brought home all three runs on a double.
The lead increased to 5-0 in the fifth inning when Johnson singled and stole his eighth base of the series. Balkwill doubled him home again.
The Bolts would not get another hit the rest of the day as the Beach Bums (32-49) made the game interesting. They got on the board in the sixth inning thanks to three straight singles. Steven Patterson started the rally and scored on an Alexis Rivera hit.
They scored again in similar fashion in the eighth. Orlando Rivera and Patterson each singled and Alexis Rivera's second RBI base hits of the game made the score 5-2. Josh Glick got the final two outs, though, to get out of trouble.
Brian Loconsole had no trouble in the ninth. He set the side down in order with two strikeouts to wrap up his 27th save of the season, a new franchise record.
Zac Westcott (7-4) allowed only one run on six hits over seven innings and picked up his second straight victory. Brian Bayliss (2-5) took the loss, allowing five runs in six innings.
The Bolts will take Monday off before returning home for a doubleheader on Tuesday against the Joliet Slammers. Game one will pick up in the top of the fourth with the ThunderBolts ahead 4-0. Game two will go seven innings. It is $2 Ticket Tuesday at Standard Bank Stadium, the final one of the year. First pitch for game one is scheduled for 6:05 and the broadcast can be heard through wcthunderbolts.com.