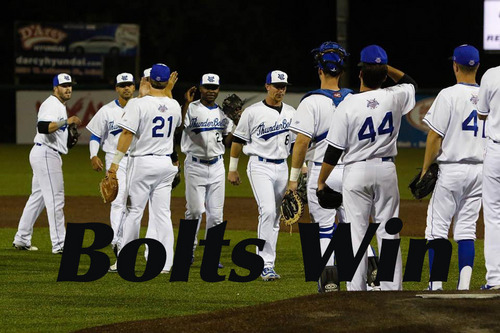 CRESTWOOD, IL – A complete game performance from Will Landsheft in his second Windy City start propelled the ThunderBolts to a 5-3 victory in the series finale against Lake Erie at Standard Bank Stadium Thursday night.
The Bolts (43-37) gave Landsheft an early advantage in the first inning. Coco Johnson walked in front of Larry Balkwill, who sent his 16th home run of the season out to left field.
Lake Erie (38-42) answered in the subsequent frame. Sean Hurley reached on an error before Brandon Murray crushed a game-tying two-run homer out to right. That would be all the offense the Crushers were able to mount over the first six innings.
In an apparent battle of strength, the ThunderBolts would not be outdone in the long ball department as Tim Zier answered Murray's homer with a solo shot of his own in the second to put his team ahead 3-2.
In the third, Windy City's offense added some insurance thanks to a misplay by Crushers catcher Bryan De La Rosa. Keenyn Walker started the inning with a walk and Coco Johnson singled. With Kyle Wood at the plate, De La Rosa threw behind Johnson at first base, but the throw sailed into right field and resulted in a Walker run scored. Balkwill drove in his third RBI of the night on a sacrifice fly after Johnson was able to move to third on the misplay.
Landsheft cruised through the third, fourth, fifth and sixth innings after retiring the side in order in four consecutive frames. In the seventh, Hurley mashed a solo home run to cut the Crushers deficit to 5-3, but that would be all for Lake Erie's offense.
Juan Caballero (5-3), who entered tonight's game with a 27-inning streak without allowing an earned run, got the loss after allowing five runs over five innings. Landsheft (6-8) was the winning pitcher after giving up three runs on three hits while striking out seven and walking none.
The ThunderBolts travel to Traverse City for a three-game series that begins Friday night. Windy City starter Jake Fisher (7-7, 3.14) will oppose Beach Bums right-hander Reinaldo Lopez (3-9, 3.87). First pitch is scheduled for 6:05 p.m. and the broadcast can be heard on WXAV 88.3 FM and wxav.com.