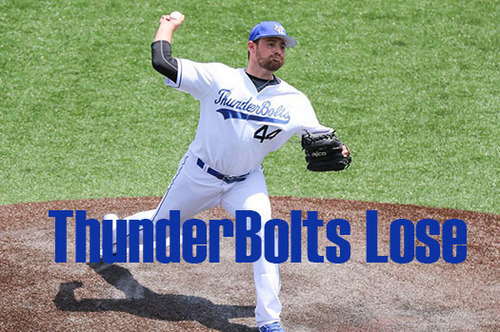 CRESTWOOD, IL – The ThunderBolts came from six runs behind to tie the Lake Erie Crushers 7-7 in the ninth inning but the Crushers scored two in the top of the 11th to defeat the Bolts 9-7 at Standard Bank Stadium Wednesday night.
Lake Erie (38-41) jumped ahead with a run on the first inning. Jordan Dean walked and scored on an error. They added to the lead with a three-run second. Bryan De La Rosa singled and TJ Santiago issued two walks to load the bases in front of a three-run Conner Simonetti double. Cody Lenahan hit a two-run homer in the third to make it a 6-0 game.
The ThunderBolts (42-37) fought back with two runs in the fifth. Kyle Wood singled and scored on a Corey Bass double. Bass scored on a Ransom LaLonde groundout.
After Lake Erie added to their lead with back-to-back doubles from LJ Kalawaia and Jordan Dean, the Bolts struck again. Riley Krane tripled and Larry Balkwill hit a two-run homer. Wood followed with a walk and Bass hit a two-run homer to pull within one run.
They rallied again in the ninth. Bass hit a one-out double and LaLonde singled him in to tie the score. LaLonde tried to score on a Keenyn Walker base hit but was thrown out at the plate by Simonetti, sending it to extra innings.
Dean started the 11th inning at second base on the tiebreaker rule and scored the go-ahead run on a Parker Norris single. A wild pitch brought in the ninth run.
The Bolts did not score off of Conner Reed, who picked up his second save with a scoreless bottom of the 11th. Chandler Jagodzinski (3-5) blew the save but picked up the win. Loconsole (1-3) went three innings and took the loss.
The four-game series wraps up on Thursday. Will Lands heft (5-8, 5.19) gets the call for the Bolts against Lake Erie's Juan Caballero (5-2, 3.28). It is White Castle Wrestling Thursday featuring a postgame wrestling show from Pro Wrestling Blitz. First pitch from Standard Bank Stadium is scheduled for 7:05 and the broadcast can be heard on WXAV, 88.3 FM and wxav.com.