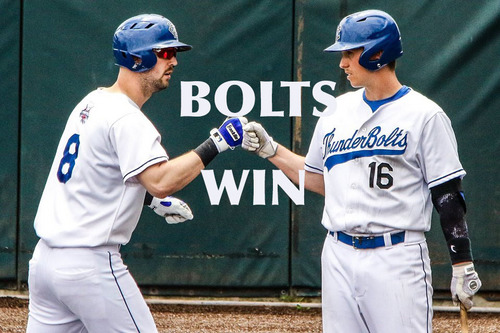 CRESTWOOD, IL – The ThunderBolts matched their season-high with 11 runs as they overcame an early four-run deficit to defeat the Lake Erie Crushers 11-9 at Standard Bank Stadium Wednesday night.
Lake Erie (16-25) jumped on the board early with three runs in the first inning as Josh McAdams hit a two-run double and Connor Oliver drove him in on a double.
The Bolts (22-20) immediately responded with three of their own in the bottom of the inning. Coco Johnson hit an RBI double and scored on a Larry Balkwill groundout. Riley Krane followed with a solo home run, the first of his pro career.
Lake Erie again moved ahead with four runs in the third. They got RBI hits in the inning from Tanner Lubach and Cody Lenahan.
After Keenyn Walker walked to leadoff the bottom of the third, Balkwill homered to cut the deficit to two. The Bolts took their first lead the next inning when they hit three straight singles with Blair Beck's scoring David Kerian. Beck and Ransom LaLonde both crossed the plate on Coco Johnson's base hit, making it 8-7.
Oliver went deep for the Crushers to tie the score but Krane struck again with his second home run to put Windy City back ahead 9-8.
Again Lake Erie tied the score on an Austin O'Brien RBI single in the sixth but again the ThunderBolts wrested the lead right back. Krane doubled home Balkwill, who had singled and Beck knocked in Krane to make it 11-9.
Josh Glick (2-0) earned the win, retiring the only two batters he faced out of the bullpen and Justin Sinibaldi (3-1) allowed the final two runs for the loss. Brian Loconsole threw a scoreless ninth for his 15th save. Neither starting pitcher lasted more than four innings. Both allowed eight runs.
The ThunderBolts will go for the sweep of Lake Erie on Thursday night. Drake Robison (0-1, 8.31) will get the start against Lake Erie's Jordan Kurokawa (3-1, 2.63). Booker T will be in attendance for White Castle Wrestling Thursday and Blitz Pro Wrestling will provide a one-hour postgame show. First pitch from Standard Bank Stadium is set for 7:05 and fans who can't make it out can hear the broadcast on WXAV 88.3 FM and wxav.com.