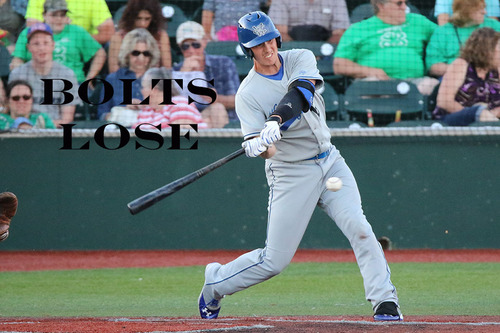 SCHAUMBURG, IL – David Harris tied Frontier League records with six hits and three home runs for the Schaumburg Boomers as they dealt the ThunderBolts a 20-5 loss at Boomers Stadium Thursday afternoon.
Harris got the scoring started in the first inning as two straight batters reached against Zac Westcott with two out. Harris hit a three-run homer and Kenny Towns followed with a solo shot to give the Boomers (27-9) a four-run first inning lead.
The Bolts (20-17) got on the board in the second inning, cutting the deficit to 4-1 as David Kerian walked and Ransom LaLonde doubled him in.
Schaumburg added five runs in the third. They got an RBI single from Towns and an RBI double from Seth Spivey but the big hit of the inning was Sean Godfrey's three-run triple that made the score 9-1.
Kyle Wood doubled for the ThunderBolts in the fourth inning and scored on a Blair Beck single but Schaumburg again answered. They scored six unanswered runs to move ahead 15-2. Harris had a two-run homer in the fourth and a two-run single in the fifth.
The ThunderBolts continued to hit in the lopsided game. Kyle Wood came up with an RBI single in the sixth inning and Will Krug followed with an RBI double. Larry Balkwill hit his sixth home run of the year in the seventh.
But Schaumburg kept piling on. Harris hit his third homer of the day, a solo shot in the seventh and Towns hit his second, a two-run shot in the eighth.
Lars Liguori (4-0) went 5.2 innings and allowed four runs in earning the win. Westcott (4-3) gave up nine runs in three innings and took the loss.
The ThunderBolts make their first trip to Joliet to start a three game series on Friday. Drake Robison will make his professional debut on the mound in game one of the series. First pitch from Slammers Stadium is scheduled for 7:05 and the game will be broadcast through wcthunderbolts.com.