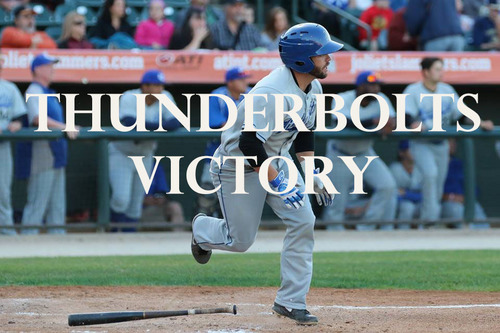 SCHAUMBURG, IL – Tim Zier's solo home run in the top of the ninth inning completed a wild comeback for the ThunderBolts as they scored five runs in the final two innings to defeat the Schaumburg Boomers 5-4 at Boomers Stadium Wednesday afternoon.
Schaumburg (26-9) got the scoring started in the fourth inning as Josh Gardiner was hit by a pitch and Seth Spivey hit a two-run homer. Spivey struck again the following inning, when he followed back-to-back two-out walks with a two-run double, giving the Boomers a 4-0 lead.
Conrad Wozniak did his best over six innings to shut down the Windy City offense. The only hit for the Bolts (20-16) off of Wozniak was a Ransom LaLonde fifth-inning single.
The Bolts had been held to only four hits through the first 16 innings of the series before Will Krug began an eighth-inning rally with a double. He advanced to third on a wild pitch and scored on a balk to break up the shutout. Keenyn Walker followed with a triple and he scored on a passed ball.
The next three batters for the Bolts all came up with hits. Coco Johnson and Tim Zier singled and Johnson scored on Larry Balkwill's base hit. After David Kerian walked to load the bases, Blair Beck's sacrifice fly tied the score at four.
Zier came up with two outs in the top of the ninth and gave the ThunderBolts their first lead of the series with a homer to left field, his first career home run in 187 games.
The ThunderBolts' bullpen held down Schaumburg's attack by retiring 13 of 14 hitters. Scott Kuzminsky got credit for the win with a scoreless eighth inning and Brian Loconsole earned his league-leading 14th save with a perfect ninth.
Derek DeYoung allowed the Zier home run and took the loss.
The ThunderBolts and Boomers conclude the series with game three on Thursday morning, an 11:00 start time. Zac Westcott (4-2, 4.25) will be on the mound for the Bolts and Schaumburg will counter with Lars Liguori (3-0, 2.68). The game will be broadcast through wcthunderbolts.com.