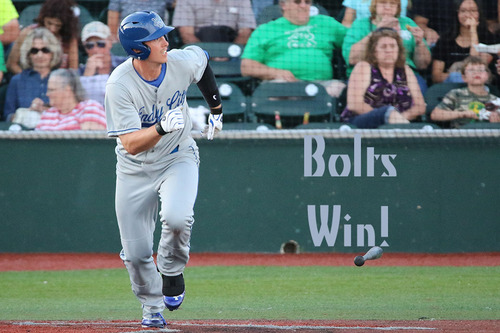 EVANSVILLE, IN – The ThunderBolts scored a season-high 11 runs and tied a season-high with 15 hits as they took game one of a three-game series at Evansville with an 11-4 victory over the Otters at Bosse Field Tuesday night.
The ThunderBolts (15-7) struck first with two runs in the second inning. Larry Balkwill hit an RBI double and David Kerian knocked him in on a single.
Evansville (10-12) fought back and took the lead with a run in the second on a Brandon Soat home run, and three more in the third. Alejandro Segovia hit a two run double and Chris Riopedre made it 4-2 on a sacrifice fly.
Otters starter Felix Baez had apparently settled in and retired five in a row heading into the fifth but Kerian jumped on the first pitch of the inning and slugged his first home run of the year to cut the deficit to one. Austin Darby walked and Keenyn Walker followed with a two-run homer, giving the Bolts the lead.
They added three more runs in the sixth inning as Balkwill hit another RBI double and Darby and Coco Johnson each picked up RBI singles.
The 8-4 lead was still in doubt in the bottom of the sixth as Evansville loaded the bases with one out but Chris Chigas and Cody Mincey combined to pitch out of the jam.
Ransom LaLonde finished the scoring in the seventh inning with a two-run double. He scored on a wild pitch to make it 11-4. LaLonde, Walker and Balkwill each finished with three hits and two RBIs.
Zac Westcott (4-0) allowed four runs in 5.1 innings but picked up the win while Baez gave up seven runs in five-plus innings and took the loss. The ThunderBolts got 3.2 scoreless innings out of their bullpen.
The Bolts look for their fourth straight win on Tuesday night in Evansville. Brady Muller (3-1, 1.71) will get the start in game two against the Otters' Hasten Freeman (0-0, 3.38). First pitch from Bosse Field is scheduled for 6:35 and the broadcast can be heard through wcthunderbolts.com.