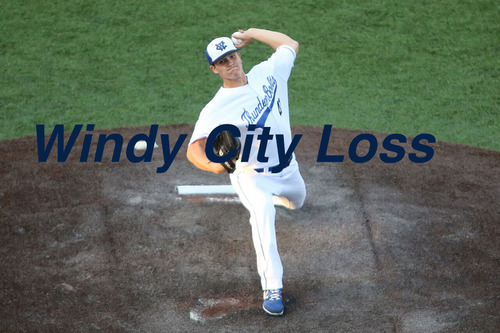 WASHINGTON, PA – Bralin Jackson hit a solo home run in the bottom of the ninth inning and Kane Sweeney hit a sacrifice fly in the eleventh as the Washington Wild Things defeated the Windy City ThunderBolts 5-4 at Wild Things Park Sunday night.
The ThunderBolts (5-4), looking for a three-game sweep, got off to a great start with two runs in the first inning. Keenyn Walker and Tim Zier walked and, after a double steal, both scored on a Kyle Wood base hit.
Washington (5-4) responded with a run in the bottom of the first. Jace Conrad reached on an error and Jackson singled him home.
The Bolts added to their lead with single runs in the third and fourth. Wood was hit by a pitch and scored the third run of the game on a Ransom LaLonde single. Danny Britt made it 4-1 when he walked and eventually came home on a wild pitch.
The score remained 4-1 into the sixth as Kyle Von Ruden allowed just an unearned run through five innings. Washington broke through against the Windy City bullpen in the sixth as Kyle Pollock walked and Alexander Fernandez tripled him in. Fernandez scored on a Rashad Brown single to make the score 4-3.
That was still the score in the ninth inning when Brian Loconsole came in looking for his fourth save. He recorded the first out before Jackson homered to left to tie the score.
The ThunderBolts did not record a hit after the third inning as they failed to score in the tenth and eleventh.
Washington started the bottom of the eleventh with a man on second base to comply with the international tiebreaker rule. Brown advanced to third on a Conrad flyout and scored on Sweeney's flyout to end the game.
Zach Strecker (1-0) threw three innings for the win and Chris Chigas (0-2) took the loss.
The ThunderBolts will take Monday off before returning home on Tuesday to take on the Normal CornBelters. Jake Fisher (0-0, 3.00) gets the start in the first of back-to-back School Day games, sponsored by Raising Cane's Chicken Fingers. First pitch from Standard Bank Stadium is scheduled for 10:35 and the game broadcast can be heard on WXAV 88.3 FM and wxav.com.