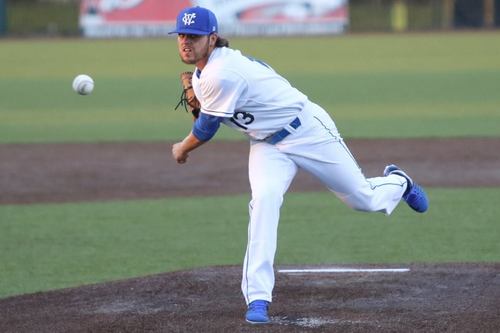 AVON, OH – The ThunderBolts scored five runs in the first two innings and cruised to a 6-0 win over the Lake Erie Crushers at All Pro Freight Stadium Thursday night.
The first three hitters reached in the first inning for the ThunderBolts (19-11), who loaded the bases on two singles and a walk before the first run scored on a Trevor Longfellow wild pitch. Cody Keefer followed with a sacrifice fly to make it 2-0. Blair Beck's RBI double gave the Bolts the early three-run lead.
They added two in the second when Taylor Smart singled and Larry Balkwill walked. John Williams dropped down a sacrifice bunt and an error on the play allowed Williams to reach and Smart to score. Williams would cross the plate on a Coco Johnson single that made the score 5-0.
Jake Fisher started for Windy City and retired 11 of the first 12 batters. The only hit in the first four innings for the Crushers (14-14) came from an Eric Grabe single. Grabe would finish with three of the team's five hits.
The Bolts finished their scoring in the fifth inning. They had five singles in the frame but tallied only one run as Tim Zier was thrown out at the plate. Johnson scored on a Mike Devine error.
The 6-0 lead held through eight innings before it started raining and the game was ruled official.
Jake Fisher (4-0) threw seven shutout frames, striking out six and Longfellow (0-2) took the loss, allowing five runs in 1.2 innings.
The ThunderBolts next head to Washington for a three-game series with the Wild Things on Friday. Game one on Friday night will feature Ryan Strombom (2-2, 5.76) pitching for the Bolts against Washington's Trevor Foss (4-2, 2.20). First pitch from Consol Energy Park is scheduled for 6:05 and the broadcast can be heard through wcthunderbolts.com.