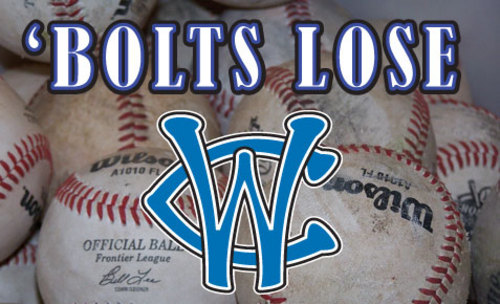 CRESTWOOD, IL – The Joliet Slammers scored five straight runs in the seventh and eighth innings to break a 2-2 and defeated the ThunderBolts 7-4 at Standard Bank Stadium Saturday night.
The game was a pitcher's duel early with neither team scoring in the first four innings. Joliet (38-51) apparently took a 1-0 lead in the second on Joe Staley's double that scored Hunter Ridge. On appeal, though, Ridge missed third base and was called out.
The Slammers did finally get on the board in the top of the fifth. Max Casper singled in front of Alfredo Rodriguez's RBI double.
After that, the two teams traded solo home runs. Jacob Tanis hit one in the fifth to give the ThunderBolts (38-51) their first run before Joe Staley put the Slammers back in front with his sixth-inning shot. Mike Torres led off the bottom of that inning with his third home run of the year to make it 2-2.
The back and forth game became a runaway when Joliet got two runs in the seventh. Jack Cleary, who had singled, scored on an error and Casper crossed the plate on a Rodriguez sacrifice fly. Joliet's eighth inning began with five straight men reaching base on three singles and two walks. Runs scored on a wild pitch, a Casper single and a Carter Bell sacrifice fly.
The ThunderBolts fought back with two late runs. Back-to-back doubles for Max White and Ransom LaLonde scored a run in the eighth and Austin Gallagher hit an RBI single in the ninth to make it 7-4.
Michael Carden (4-5) pitched seven strong innings for the win and Austin Wright (5-11) allowed three earned runs in his seven innings for the loss.
The ThunderBolts wrap up their home schedule on Sunday night with the finale against Joliet. Dyllon Nuernberg (1-0, 0.00) will start for Windy City against Spencer Medick (1-3, 4.79). It is fan appreciation night at Standard Bank Stadium as attendees will have the opportunity to choose among a variety of giveaways. First pitch is scheduled for 6:05 and the broadcast can be heard on WXAV 88.3 FM and wxav.com.
Box Scorehttp://www.pointstreak.com/baseball/boxscoretext.html?gameid=248381