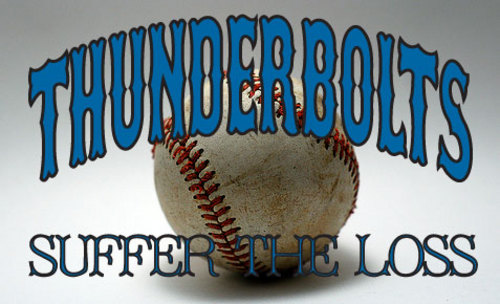 CRESTWOOD, IL – Joe Pavlovich threw five shutout innings and earned his first professional win as the River City Rascals defeated the ThunderBolts for the second straight night, 5-0 at Standard Bank Stadium.
The ThunderBolts (36-50) had a good early scoring chance when they put two men on base with back-to-back walks in the first. A double steal put Austin Gallagher and Mike Torres at second and third, but Pavlovich got Max White and Cody Keefer to end the inning.
Zach Kometani walked to lead off the second for River City (49-37). He was bunted to second, moved to third on a groundout and scored on Josh Ludy's two-out single.
They added two runs in the fifth. Jackson Slaid walked and Casey Rodrigue singled, putting runners at the corners. Johnny Morales's squeeze bunt scored Slaid and Curran Redal's base hit brought home Rodrigue to make it 3-0.
Taylor Ard singled and Kometani doubled him home in the sixth to add to the lead and Ludy singled home Kometani to put the Rascals ahead by five.
The Bolts did not have a baserunner between the fourth and eighth, but the string ended on Coco Johnson's eighth-inning single. Torres followed with a base hit to put runners at the corners but Zach Treece got Gallagher to end the threat and Victor Beriguete pitched a perfect ninth.
Pavlovich (1-0) allowed three hits in his five innings for the win and Cameron Giannini (4-1) took his first loss of the season, allowing five runs in six innings.
The ThunderBolts will try to avoid the sweep in game three on Thursday night. Travis Tingle (5-7, 3.13) will start for Windy City against River City's Joe Scanio (9-5, 3.43). It is a Blitz Pro Wrestling Thursday with an hour long wrestling show following the game. Wrestling superstar Tommy Dreamer will also be in attendance signing autographs First pitch from Standard Bank Stadium is scheduled for 7:05 and the broadcast can be heard WXAV 88.3 FM and wxav.com.