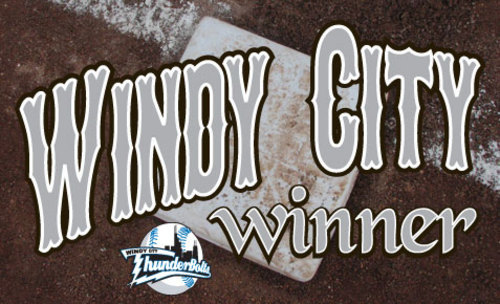 SCHAUMBURG, IL – The ThunderBolts collected 15 total hits on their way to an 8-5 win over the Schaumburg Boomers in game one of their series at Boomers Stadium Tuesday night.
After both teams went scoreless for two innings, the Boomers (30-43) broke the ice with a run in the third on an Alexi Colon sacrifice fly.
The ThunderBolts (30-42) responded by loading the bases with no outs in the fourth. Cody Keefer doubled to score two runs and give the Bolts the lead. They added a run in the fifth when Larry Balkwill picked up the first of his three hits and scored on an Austin Gallagher single.
Schaumburg tied the score in the fifth and took the lead in the sixth. Ty Nelson's RBI double made it 3-2 and he scored on an error. The next inning, Colon hit a two-run single to make it 5-3 Boomers.
Balkwill began the seventh with a single for the Bolts and a single for Mike Torres and walk for Gallagher loaded the bases before Max White tied the score with a base hit. An error scored Gallagher to reclaim the lead for the ThunderBolts.
They added two insurance runs in the ninth. Four straight hits began the frame, culminating in back-to-back RBI singles for White and Keefer to make the final score 8-5.
Jake Fisher allowed two earned runs in 4.2 innings for the Bolts and reliever Tommy Nance (1-1) picked up his first pro win with 1.2 innings, allowing two runs. Taylor Thurber threw six strong innings for the Boomers but the loss went to Evan Boyd (0-3), who gave up three runs in a third of an inning.
The ThunderBolts will turn around quickly for game two with Schaumburg on Wednesday afternoon. Austin Wright (4-8, 4.40) takes the hill for Windy City in game two against the Boomers' Eddie Cody (7-3, 3.10). First pitch from Boomers Stadium is scheduled for 1:0 and the broadcast can be heard on WXAV 88.3 FM and wxav.com.