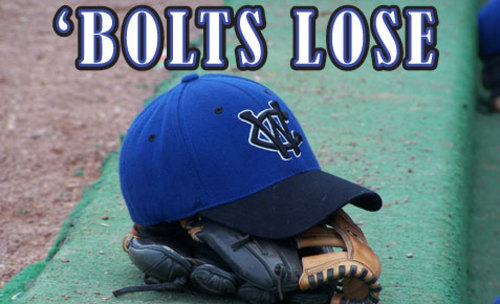 NORMAL, IL – Richard Lucas hit a game-tying home run in the eighth inning and a game-winner in the ninth Wednesday night to lead the Normal CornBelters to a 6-3 win over the ThunderBolts at The Corn Crib.
The Bolts (5-11) jumped out to an early lead with three first-inning runs. Mike Torres singled and scored on Marquis Riley's two-out double. The next batter, Jacob Tanis, hit a home run to left field to put Windy City ahead 3-0.
Normal (13-4) was quick to respond with a run in the bottom of the first. Cameron Monger singled and scored on an Aaron Dudley base hit. They added another run the following inning when Santiago Chirino walked and Jason Merjano tripled.
Normal had more scoring chances, but left eight men on base through seven innings, keeping the Bolts in front 3-2.
Jake Fisher departed after the sixth inning having allowed two runs on six hits.
Normal tied the score in the eighth inning off of Joel Lima. Lucas led off the inning with his third home run of the year.
The ThunderBolts had a chance to take the lead back in the ninth. Singles from Tanis and Ryan Tufts put runners at the corners, but Victor Beriguete got Ransom LaLonde to ground out, ending the threat.
Mark Micowski startd the Normal rally in the bottom of the ninth with a one-out single. He stole second and stood there when Dudley was intentionally walked in front of Lucas. Lucas worked the count to 1-1 before smashing a home run over the left field wall to give his team a 6-3 victory.
Beriguete (1-1) picked up the win while Chris DeBoo (1-1) allowed the three runs for the loss.
The ThunderBolts will complete their three-game road trip in Normal with game three on Thursday. Austin Wright (1-2, 7.04) will start for the Bolts and the CornBelters are expected to counter with Kevin Brahney (3-0, 0.42). First pitch is scheduled for 6:35 and the broadcast can be heard on WXAV 88.3 FM and wxav.com.