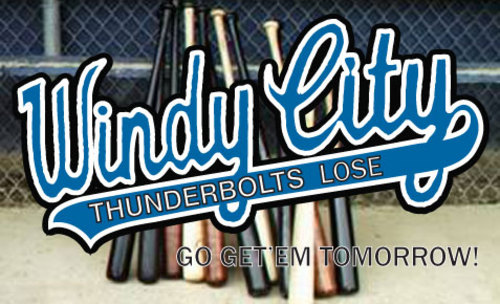 WASHINGTON, PA – The ThunderBolts took a two-run lead in the eighth, but ultimately lost in 11 innings to the Washington Wild Things on a Stewart Ijames walk-off double. 4-3 was the final at CONSOL Energy Park.
Washington scored in the first inning, picking up back-to-back singles before Garret Rau was able to steal home after Doug Joyce's throw went to second on BC.J. Beatty's steal.
The Bolts responded quickly in the top of the second. Kyle Robinson led off the inning with his first home run of the year, tying the score at one.
Pitching dominated from that point on. Markus Solbach retired twelve straight batters after the two first-inning singles and Scott Dunn set down 17 out of 19 hitters following the Robinson home run. The only scoring threat during that stretch came from Washington in the bottom of the fifth. They had runners at the corners with one out when Nick Ratajczak dropped down a bunt. Solbach grabbed quickly and threw home to cut down Maxx Garrett at the plate.
The ThunderBolts finally broke the 1-1 tie in the eighth. Max White led off with a single and Doug Joyce tripled him home to make the score 2-1. Two batters later, Ty Stetson dropped down a perfect squeeze bunt to score Joyce and give the Bolts a 3-1 lead.
Washington answered in the bottom of the eighth. Against Jessie Snodgrass, Ratajczak walked and Beatty homered to tie the score.
The ThunderBolts did not have another baserunner the rest of the game. Washington put across the winning run in the eleventh. Rau drew a leadoff walk and stood at first with one out when Ijames doubled to right-center field, scoring Rau to make it 4-3.
Al Yevoli (1-1) retired the only two batters he faced and picked up the win. Jordan Mejia (0-1) gave up the winning run for the loss. Both starters threw seven one-run innings but neither factored in the decision.
The ThunderBolts and Wild Things will play game two of their series on Saturday night at CONSOL Energy Park. Travis Tingle (1-1, 3.38) will make the start for Windy City against Washington's Alex Kaminsky (0-0, 6.23). First pitch is scheduled for 6:05 CDT and the broadcast can be heard on WXAV 88.3 FM and wxav.com.