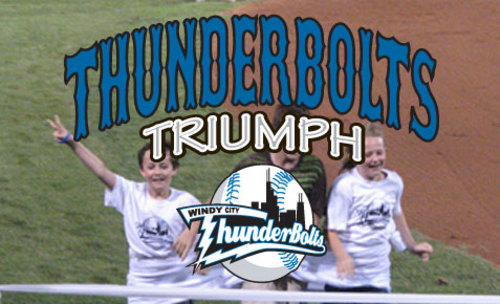 CRESTWOOD, IL – The ThunderBolts scored five runs in the sixth inning to erase a 3-2 deficit and defeat the Lake Erie Crushers 7-3 at Standard Bank Stadium Wednesday night. The win moved the ThunderBolts over .500 at 45-44 for the first time this year.
The Bolts trailed 1-0 just four batters into the game after Craig Hertler walked, moved to third on a single and an error and scored on Russ Moldenhauer's sacrifice fly.
Windy City answered with a run in the second courtesy of a bloop infield double in which Lake Erie catcher David Roney misplayed a popup hit by Jayce Ray. It turned into an RBI hit as Doug Joyce crossed the plate. Joyce had doubled one batter earlier.
Lake Erie reclaimed their lead with single runs in the third and fourth. Moldenhauer and Juan Sanchez each had an RBI hit.
The Thunderbolts cut the lead to one in the fifth. Chase Tucker reached on an error and Evan Button doubled him in.
The next inning, the bats really came alive as they came up with five hits. Zach Aakhus led off with a single and moved to third with two outs on Ray's infield hit. Tucker was hit by a pitch to load the bases in front of Button, who gave the ThunderBolts their first lead on a two-run single. Mike Torres followed with an RBI single and Ryan Soares capped the scoring with a two-run double, one of three hits on the night for him.
The ThunderBolts bullpen worked three scoreless innings to preserve the 7-3 score.
Matt Wickswat (6-11) allowed two earned runs in six innings for the win and Mickey Jannis (7-2) gave up five runs in .2 innings for the loss.
The ThunderBolts will go for the sweep of the Crushers on Thursday night as Daniel Cropper (7-4, 4.62) gets the start. Lake Erie will counter with Matt Rein (8-5, 2.21). It is Fan Appreciation Night for the final home game at Standard Bank Stadium this season. It is also Bud Light Thirsty Thursday. Fans not in attendance can tune into the broadcast on WXAV, 88.3 FM and wxav.com.