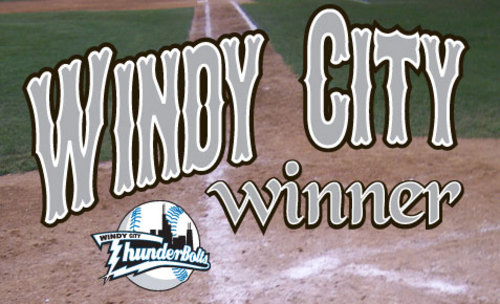 ROCKFORD, IL— A 3-3 road trip for the Bolts' ended in a high-note as Windy City earned its first series victory of the year as the ThunderBolts took the final two against the Aviators. Rockford (3-17) was still has not won a series this season after Windy City (7-15) edged a 5-4 victory Sunday night.
The ThunderBolts scored in the opening inning for the second straight game as they put together three straight hits. With two outs Chad Cregar doubled home Mike Torres for an early 1-0 Windy City lead.
Rockford would knot up the score at one an inning later stringing together three hits of its own. Jereme Milons hit a one-out single to start the offense and Obregon brought him home two batters later.
The ThunderBolts added some more two-out hitting by putting up four more runs in the 3rd inning. Louie Templeton came up to the plate with the bases loaded and two outs and lined a base hit to plate two more ThunderBolts. Windy City didn't stop there as Adam Davis and Miles Walding each contributed with an RBI single as well, making it 5-1 ThunderBolts.
Neither team would score as Rockford earned one of those runs back in the 7th inning. Eric Bainer led off the frame with a triple and would score on Ray Hernandez's groundout, cutting Windy City's lead 5-2.
Rockford made the game a lot more interesting in the 8th inning. With Michael Click on the mound Matt Greener recorded his second hit of the game with one out. Two batters later Milons sent a full count pitch over the right field wall cutting the lead to just one run for the ThunderBolts.
Matt Wickswat (2-2) earned the win while his counter part Trevor Harden (1-3) picked up the loss. Andy Mee earned his 2nd save of the year striking out two of the three batters he faced in the 9th.
Windy City begins a 15-game home stand Tuesday starting with a series against the Schaumburg Boomers. Daniel Cropper (1-2, 6.15) takes the mound for the ThunderBolts against the Boomers' Mike Giovenco (1-2, 3.46). First pitch is scheduled for 7:05 p.m. at Standard Bank Stadium. Those that cannot make it to the game will be able to listen to a live broadcast on wcthunderbolts.com