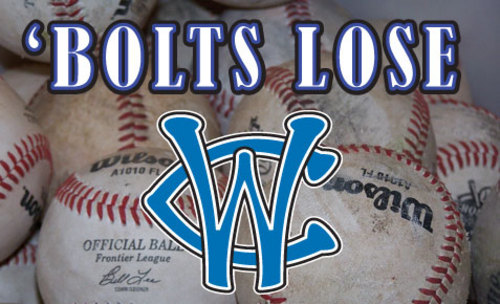 CRESTWOOD, IL – The ThunderBolts scored two runs in the ninth inning to send Thursday night's game into extra innings. But back-to-back Lake Erie home runs in the tenth sent Windy City to a 4-2 loss in the finale at Standard Bank Stadium this year.
Mike Recchia and Matt Smith were locked in a pitchers' duel early. The only man for either side to reach third base through seven innings was Chris Wade, who was left there when the Bolts stranded the bases loaded in the first.
No one broke through on the scoreboard until the top of the eighth. Brian Erie singled and stood at second with two outs for Daniel Bowman, who singled him home, giving the Crushers a 1-0 lead.
Lake Erie added to their lead in the ninth. Russ Moldenhauer doubled and scored on a two-out two-base hit from Robby Kuzdale.
In the bottom of the ninth, Brandon Decker singled and Ryan Cuneo doubled putting runners at second and third with no outs against Jonathan Kountis, who had not allowed a run in 23 innings. Decker scored on Zach Aakhus's groundout and pinch-runner Brandon Pearl stood at third base with two outs for Bob Glover. Glover singled a 2-2 pitch to left field and tied the game at two.
In the top of the tenth, with two outs, Bowman homered to reclaim the lead for Lake Erie, 3-2. The next batter, Andrew Davis, homered as well and made it 4-2.
The Bolts could not mount a rally in the tenth and fell by the 4-2 final.
Kountis (6-2) picked up the win despite the blown save. Willy Kesler (1-3) took the loss. Ben Klafczynski pitched the tenth for his first save.
The ThunderBolts will go on the road for their final three games, trailing Florence by two games for the final playoff spot. Windy City will start a three-game set with River City Friday night at T.R. Hughes Ballpark with game one scheduled to start at 7:05. Doug Shields (5-1, 5.52) will start for the Rascals. The broadcast can be heard on WXAV, 88.3 fm and wxav.com.

Box Score