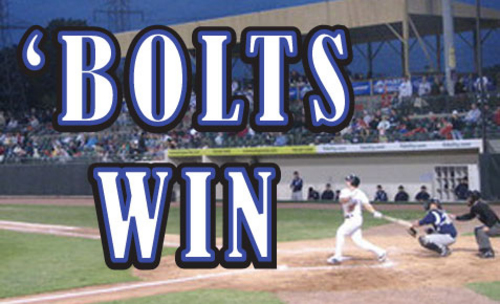 SAUGET, IL – The ThunderBolts scored five runs in the third and held off a late Gateway charge in a 5-4 victory at GCS Ballpark Thursday night.
The Bolts sent nine-men to the plate in the third inning as they scored the games' first five runs. Bob Glover walked and Mike Torres singled to put two men on before Chris Wade's base hit off the wall scored Glover to break the scoreless tie. Chad Cregar hit a grounder to first and when Torres tried to score, an error allowed him across the plate and moved Wade to third and Cregar to second. They both scored on a Zach Aakhus double. The scoring concluded in the inning with a Brandon Pearl RBI base hit.
Windy City had just one hit the rest of the way as pitching took over.
The Grizzlies scored their first run in the bottom of the third. With the bases loaded, Jerod Yakubik singled home Landon Hernandez. The bases were still packed, but Weller got Rogelio Noris to ground into an inning-ending double play.
Weller dominated from that point on. He allowed just three hits the rest of his stint in the game and struck out eight Grizzlies in his final 3.1 innings.
Jerod Yakubik tightened the game up in the eighth with his first home run of the year in the eighth to make it 5-2.
With two outs in the ninth inning, Weller departed and Shane Zegarac came in. The first batter he faced, Hernandez, hit a two-run homer to make it a one-run game. After back-to-back walks, Zegarac gave way to Andy Mee, who struck out Aaron Conway with the winning run at second base to secure the 5-4 victory.
Weller (3-0) struck out 13 in the win while Gateway starter Pat Arnold (3-2) allowed all five runs in the loss. Mee earned his first save. With the win, Windy City improved to 6-3 on their longest road trip of the season.
The ThunderBolts will return home from their nine-game trip on Friday night to take on the River City Rascals at Standard Bank Stadium. Tyson Corley (0-4, 4.05) will start for the ThunderBolts against River City's Nick Kennedy (3-1, 2.80). It is $1.25 beer night in Crestwood for Budweiser Fill 'R Up Friday. The game begins at 7:05 p.m. CDT and the broadcast can be heard on WXAV, 88.3 fm and wxav.com.

Box Score